Buddha's kingdom
BY ALEX GORTON, Scotsman, Nov 17, 2007
Timphu, Bhutan -- AS RECENTLY as 25 years ago outsiders were forbidden from entering Bhutan, a tiny, Buddhist country lying at the eastern end of the Himalayas.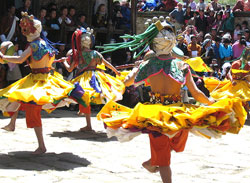 Sandwiched between the behemoth economies of China and India with a population of around 700,000 people, tourism has only recently begun to thrive and last year visitor numbers (excluding Indians who don't need a visa to enter) hovered around the 17,000 mark.
While there's no immediate danger of Bhutan being flooded by tourist hoards, change is afoot. Following the abdication of King Jigme Singye Wangchuck last year in favour of his son Jigme Khesar Namgyel Wangchuck, 2008 will see both the coronation of the new king and the first democratic elections to be held in the country.
Introduced at the behest of the king, the elections have been regarded with suspicion by a population happy with the system as it is. How a new form of government will affect this nation of peaceful, mainly rural people remains to be seen, although it will undoubtedly bring even more attention to a country unused to the spotlight.
Advert for scotsman.com's football briefing
Developments such as these are indicative of how Bhutan is slowly opening itself up to outside influences. Approximately the size of Switzerland, it's a mountainous land of snowy peaks, lush valleys and thick-forested hills, rising from 300m in the south to 7,000m in the north. This deeply religious country tends to attract visitors seeking a spiritual journey, a trekking adventure or the "next big thing".
Famed for measuring its success with Gross National Happiness rather than Gross National Product, Bhutan has in the last few years embraced more western ideas. Television was introduced in 1999 and the internet followed soon after. While national dress is still mandatory for work and school, you do see young men in jeans and football shirts (the influence of Sir Alex Ferguson is palpable even here) and it's apparent that it's no longer the Himalayan hermitage it once was.
International recognition brings with it scrutiny, but outsiders can struggle with Bhutanese culture. It's easy to be cynical about the notion of Gross National Happiness in a country where the GDP is minimal. When 90 per cent of the population is involved in subsistence farming and staff at the hotels have to walk three or four days to get home, is it simply a good way to keep them quiet? Apparently not - the "Land of the Thunder Dragon" seems genuinely harmonious and trouble-free. Everyone I met supported the king and showed a level of respect and concern for others that recalls a gentler, long-gone era in the UK.
In an attempt to protect the fragile values of the world's only Buddhist kingdom, the Bhutanese government has taken a cautious approach to tourism. All visitors must pay a daily tax to enter and stay in the country. Moreover, independent travel is not authorised and all visitors must have pre-arranged accommodation. Unsurprisingly, this has kept away backpackers and Bhutanese tourism is very much of the high-end, low-volume variety.
Travellers arrive by air into Paro, which is exciting and hair-raising in equal measure. If you don't like flying, the steep descent into the narrow valley is best endured with your eyes closed - although on the plus side it's possible to see Everest on a clear day. The picturesque Paro Valley is home to the airport and the country's two most prominent hotels. Uma Paro, part of the luxury Como group, and Amankora, the latest offering from Aman Resorts, both opened in 2005 and were the first high-end hotels to set up in Bhutan. Where these two led, others have followed; Taj, the big Indian chain, is set to open its first property in the capital Thimpu later this year.
Uma Paro is the base for our stay. It ticks all the usual boxes for a luxury hotel - sumptuous spa, fantastic restaurant and chic boutique selling overpriced trinkets - but it also has an amazing setting on the side of a hill overlooking a valley. It's widely regarded as the best hotel in Bhutan, and, after being shown my room with its dark marble floor, vast bathroom and striking views, it was hard to argue.
Cameron Diaz and Keira Knightley have already given Uma Paro the celeb seal of approval and, the night before we arrive, Matt Dillon was seen eating here. Celebrity-spotting, however, is the last reason you'd want to come to the valley. It is a strikingly pretty place with pine-clad hills and the fast-moving Paro Chuu River rushing through the middle of it. The small town of Paro is a five-minute drive from the hotel and, while offering few amenities, it makes a fascinating stop-off. Guests come here to go on hikes (ranging from a morning to week-long camping trips), visit the many monasteries or simply to take in the serenity of the countryside.
At 2,300m, Uma Paro lies just under the official height where people feel altitude sickness. But a short walk up a hill can still make you seriously question your fitness. Having met Yarab, our guide for the next few days, we set off for Paro Dzong, a vast gold and red-roofed fortress that stands above the town. Dating back to the 15th century, it was constructed to guard against invasions by Tibet. These days it's the administrative seat of the Paro district and home to a colony of around 200 monks.
A beautiful building with thick white walls and elegant murals, it is full of red-robed boys spinning prayer wheels and playing in the vast courtyard. Monks bring prestige to their families and many of the boys enter the monastery aged six or seven. It is hard to believe these little monks are anything but children playing a game, yet they are already set on a course they will probably follow for the rest of their lives.
The next day, we set off for the Chele La Pass. At 3,988m, Chele La is the highest pass in Bhutan, linking Paro with the remote Haa valley. Jumping out of the van, we are hit by a wave of dizziness as the effects of altitude suddenly take hold. Stopping a few minutes to catch our breath, we take in the view of the surrounding hillsides dotted with omnipresent prayer flags and thick pine trees. The view from Chele La is spectacular, although unfortunately for us, clouds obscure the snow-covered cap of Mount Jhomolhari, Bhutan's highest peak.
We have stopped at Chele La to jump on a mountain bike and free-wheel down into the valley. Winding around sharp corners, past jutting rocks, we quickly cover the 25km route, stopping occasionally to pull on a jumper or avoid the odd yak that wanders across the way. By the time we reach the Haa valley we are soaking wet. lf-way down the mountain the heavens had opened and, although the van was following closely behind, it was too great an experience to stop.
Visiting Bhutan is all about such experiences. From overnight camping on picturesque hillsides to day hikes up to remote monasteries and lakes, it's the mixture of untouched nature and human spirituality that has created a beguiling mix. Taktsang Lhakhang, a stunning fortress built into a side of rock 3,000m high, is Bhutan's most famous site and sums up everything the country has come to represent.
Known as the Tiger's Nest, it is shrouded in myth. The original building is said to date back to the eighth century. Legend has it that Guru Rinpoche (credited with bringing Buddhism to Bhutan) rode on the back of a tiger to Taktsang, where he meditated for three years. Although the monastery was destroyed by fire in 1998, it was completely reconstructed and looks as if it has been there for centuries. From a distance it appears almost to float in the mist that clings to the side of the cliff.
It takes about an hour and a half to walk up the winding path festooned with prayer flags to a rocky point opposite the fortress. At the top, all that separates you and the Tiger's Nest is a deep chasm that can be negotiated by 800 steep steps. Easier said than done: getting to the fortress feels like a true feat, and that's without the bricks and mortar that workers would have carried to build it.
From the heights of this fortress, the monks of the Tiger's Nest have observed the trees and distant rooftops of the Paro Valley for centuries. On the surface little changes and for the moment Bhutan feels as if it is stuck in a blissful time warp. Next year's elections, a new king and, most importantly, the nation's location between two emerging superpowers mean that change is inevitable. Whether this is good or bad remains to be seen, although you can't help but wish it would stay this way forever.
• Greaves Travel (tel: 0207 487 9111, www.greavesindia.com) offers three nights at Uma Paro from £2,299pp. The trip includes return flights from Glasgow or Edinburgh, two nights in Kolkata, two guided day walks and a massage.