The handy monk of Tangsibji
By Tashi Dema, Kuensel Online, June 30, 2008
Tangsibji, Bhutan -- Monks have always played an important role in Bhutanese society. But Nawang Rabsel of Tangsibji, in Trongsa, is taking that role a little further.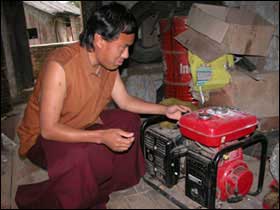 << Gelong Nawang Rabsel: A self-taught repairman exclusively by touch
The 32-year old blind monk not only helps the local community fulfill their religious needs, he also repairs their radios, torches and solar sets.
When Kuensel went to meet him, the monk was repairing a generator. "I see with my hands," said Nawang, as he checked the spark plug of a generator.
Staying in his parental two-storey Bhutanese house, located above the Thimphu-Trongsa highway in Tangsibji, 23 km away from Trongsa town, the monk told Kuensel that he tinkered with torches, batteries and wires as a little boy. "Since then I've been doing what I like though I can't see," he said.
Born blind, Nawang said that he forms mental pictures through touch to sense the problem before he fixes it. As of today, Nawang has repaired 15 radios, 11 solar lighting systems, six generators and a few cars.
"Last year we had a truck here that couldn't start," a local resident, Ugyen, told Kuensel. "Nawang opened the bonnet, checked the battery cell and cleaned it."
Nawang has his limits, though, which is why he has never tried to repair a watch. Perhaps, the parts are too small for him to locate by touch.
His command over technical terms in English is so impressive that it is hard to believe that he never went to school.
Ngawang started wearing the monk's robes at the age of 13 and learnt to read and write Dzongkha from the former Trongsa Lam Neten, Ganapati.
"He's unbelievable," said a local resident Sonam. "It's amazing to watch him at work with his eight-in-one set of tools.
Quick-witted and easygoing, Nawang easily manoeuvres around his room, locating whatever tools he needs. His pastime is praying, listening to Kuzoo radio and BBS radio's health programmes.
A lot of people suggested he enroll at the national institute for the disabled in Khaling. "Even as a child, it didn't interest me. What I want is to practice Buddhism and that is what I'm doing," he told Kuensel.