Closing the Buddhist knowledge gap
By Gyalsten K Dorji, Kuensel Online, 27 August, 2009
Timphu, Bhutan -- Visiting the Memorial Chorten in Thimphu, Dr Rewatha Thera, asked a Bhutanese lam what the decorations or flags adorning the structure for the annual Moenlam Choenmo symbolised. The lam, after some hesitation, replied that he had no idea.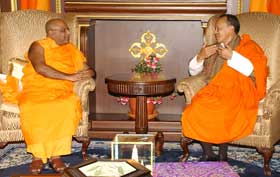 << Mahabodhi Society general secretary advises keeping youth abreast
"How can you your younger generations understand when some of your monks don't in the first place?" asked Rewatha, a Sri Lankan monk of the Theravada school.
Dr Rewatha Thera, a Sri Lankan and a monk for the past 25 years, is the general secretary of the Mahabodhi society in India; a large Buddhist organisation that will have Prime Minister Lyonchhoen Jigmi Y Thinley as their next president until 2013.
Dr Thera, who last visited Bhutan 10 years ago, noticed that Buddhist traditions and rituals were maintained "very nicely" but that explanations on these aspects are lacking. He offered an encounter with some Bhutanese students he met in Kolkata, India. "They chanted Buddhist prayers, but when I asked them if they understood what they were reciting," he said, "they replied, we don't know."
"The time has come to explain to our young," said Dr Thera. Sri Lanka is also experiencing the same knowledge gap that is currently evident in Bhutan, according to Dr Thera. He said one barrier towards understanding Buddhism by younger generations in Sri Lanka was that most sutras and other Buddhist texts were in the ancient language of Pali. But most of these texts had been translated into local dialects and were now being read more widely by interested Sri Lankan youth, he said.
Dr Thera provided another example in the neighbouring city of Darjeeling, where Buddhist texts were being translated into Nepali and being distributed free of charge. "Bhutan can follow this example," he said, especially if its society was concerned about the loss of culture and tradition to newer forms.
Another way Sri Lankan Buddhists monks address the knowledge gap, said Dr Thera, was giving younger monks larger responsibilities through talks and lectures with the public. "They usually come up with new ways of teaching that the youth can identify with," he said.
"It helps you to understand the world around you, it makes life simpler," said Dr Thera, on why, if at all, it is necessary to close the Buddhist knowledge gap. He said Buddhism was a "deep philosophy" but that it could be as simple as having compassion for everyone around you and being involved in social work.
Dr Thera suggested Bhutanese monks become more involved in social work. He pointed out that, in Japan, youth disillusioned by a increasingly materialistic Buddhist clergy, had been drawn back towards the philosophy after it integrated social work into its practices.
The decorations adorning the memorial chorten during the moenlam choenmo are trashi dhargyes, symbolising a combined form of the eight lucky signs. Ironically, Dr Thera received this explanation from a Japanese scholar accompanying him.