Dhaka rebuilding Buddhist temples
by HAROON HABIB, The Hindu, Oct 27, 2012
Dhaka, Bangladesh -- Authorities have started rebuilding the Buddhist temples destroyed by mobs in Cox's bazaar and Chittagong districts in September.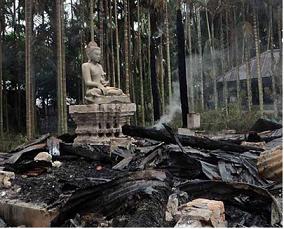 Reports from Cox's bazaar said reconstruction work had started under a directive from Prime Minister Sheikh Hasina, who had assured that the temples would be rebuilt. The work would reportedly be carried out by Army engineers at an estimated cost of 120 million taka.
Officials said the new designs would be finalised by Buddhist leaders to retain original shapes.
The September 29 and 30 mayhem in the Buddhist villages in Ramu, Ukhia, Teknaf and Patiya in southeast Bangladesh, adjoining the Rakhine State of Myanmar, was the worst communal violence in Bangladesh's history. It displaced several thousand Buddhists and dozens of homes were vandalised.
The violence was allegedly triggered by an offensive Facebook post maligning Prophet Mohammad. However, most enquiry reports say the attack was planned and politically motivated. Fundamentalist organisations active along the border with Myanmar have been blame for carrying out the attack with support from the Rohingya refugees from Myanmar.
Prime Minister Sheikh Hasina, who visited the worst affected Ramu area, later told a delegation of Buddhist leaders that her government would not spare anyone involved in the attack.
The main opposition BNP has blamed the government for the attack.
The Hasina government believes the attack on Buddhists, who comprises about one per cent of the population, may have other motives: to force the government to accept the Rohingya refugees from Myanmar; to wreck the ongoing war crimes trial and to create anarchy ahead of the next general elections.
However, almost all probe reports have questioned the role of the local administration and police during the attacks as the government agencies had remained silent onlookers during the violence.
Around 250 people have been arrested over the attacks and the government has announced trial of the plotters and attackers in the Speedy Trial Court.
There is a strong allegation of fundamentalist Jamaat-e-Islami's involvement in the attack.