Buddhist monk aged 75 hacked to death in isolated temple where he lived alone
By Anthony Bond, The Mirror, 14 May 2016
Naikkhangchhari, Bangladesh -- The body of Mongsowe U Chak was found at the temple in Naikkhangchhari village, Bangladesh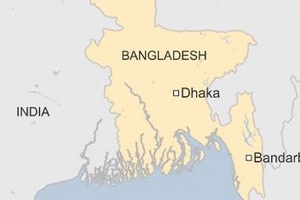 << It is feared Islamist extremists carried out the sickening killing
An elderly Buddhist monk has been hacked to death at a temple in Bangladesh.
The body of Mongsowe U Chak, 75, was found at the isolated temple where he lived alone.
The gruesome scene was discovered by somebody who was taking breakfast to the pensioner.
Police said they did not know the motive of the killing in in Naikkhangchhari village, which is 211 miles southeast of Dhaka.
It is feared the murder was carried out by Islamist militants following a spate of recent killings.
Both ISIS and al-Qaida have claimed responsibility for carrying out some of the murders.
However, nobody has yet said they carried out the murder of the monk and police are now looking for the attackers.
As reported by the Guardian, Jashim Uddin, deputy police chief of Bandarban, said: "Villagers found Bhante (monk) Maung Shue U Chak's dead body in a pool of blood inside the Buddhist temple this morning. He was hacked to death.
"We saw human footprints in the temple and found that four to five people entered the compound."
The Muslim-majority nation of 160 million people has seen a surge in violent attacks over the past few months in which liberal activists, members of minority Muslim sects and other religious groups have been targeted by Islamist extremists.
Islamic State has claimed responsibility for some of the killings although the government denies the Sunni militant group has a presence in the country, saying homegrown extremists are behind the attacks.