Conservation tips through Buddhism
The Telegraph, April 6, 2005
New Delhi, India -- Three wildlife agencies have come together to spread awareness among communities inhabiting the Himalayan region, including Arunachal Pradesh, on conservation of flora and fauna with the aid of Buddhism.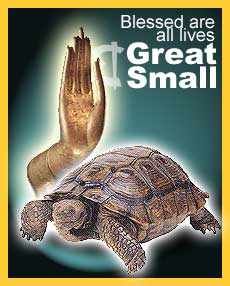 A joint project of the Wildlife Trust of India (WTI), Care for the Wild International and the Rowell Fund, it will be in vogue for three years and may be extended to other areas along the Indo-Myanmar border depending on the outcome in the initial years. The expenditure for one year is expected to be Rs 15 lakh.
Launching the programme at a colourful ceremony at the Scope Complex here today, the Dalai Lama said: ?More than ever before, life must be characterised by a sense of universal responsibility - not only nation-to-nation and human-to- human, but also human-to- other forms of life.?
He referred to instances in Buddhist literature which encourages conservation of nature. The core of Buddhism revolves around compassion, respect and tolerance for every human being towards all other living beings on earth. Its tenets emphasise coexistence with nature rather than conquering it.
?This forms the essence of our campaign,? said WTI senior adviser Ashok Kumar.
The need for awareness in conservation arises with an increase in poaching, indicated by the huge seizures of wildlife items at regular intervals. This is prompted by a tremendous increase in the demand for wildlife items in the neighbouring countries in recent years.
It is believed that at least two prominent routes for smuggling of wildlife items exist in the Northeast. One leads to Tibet and the other to the autonomous province of Yunnan in China through Myanmar.
Conservation is also important for the Northeast because the entire region is included in the Indo-Myanmar bio-diversity hotspot.