India 's Buddhist circuit to woo Japanese tourists
by Soma Mookherjee, The Statesman, Nov 4, 2004
Kolkata, India -- The state tourism department has decided to create a Buddhist circuit for Japanese tourists frequenting Bodh Gaya. And to get such tourists to also visit Buddhist sites in West Bengal, the state tourism department is planning to retrieve the Buddhist links of Tamluk or erstwhile Tamralipta in Midnapore East. The department has also planned to rope in Jaggibanpur in Malda in the Buddhist circuit as many relics and figurines were excavated from this area in the early nineties.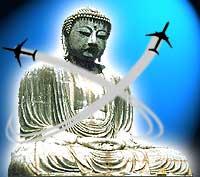 ?There is a steady flow of Japanese tourists throughout the year in our city who go on a pilgrimage to Bodh Gaya or Sarnath near Varanasi. Our minister is thinking of creating a Buddhist circuit in Midnapore East to trace the prevalence and practice of Buddhism in Tamluk from the Ashokan era. The exercise will be aimed at attracting Japanese pilgrims,? Mr Ashok Patnaik, state tourism secretary, said. He said the state tourism department is planning to restore the Buddhist heritage of Tamralipta and convert it into a Buddhist circuit to attract more Japanese and other Buddhist pilgrims from South-east Asia.

The minister also wanted to know from the district magistrate, Midnapore East, about the Buddhist sites of Tamralipta.

Tamralipta had a port from where Emperor Ashoka?s son Mahendra and daughter Sanghamitra went to preach Buddhism in Sri Lanka.

The statistical account of Bengal by WW Hunter referred to Tamralipta as an important Buddhist harbour with 10 Buddhist monasteries, about thousand monks and a pillar dedicated to Emperor Ashoka. The account also stated that Tamralipta played an important role in the spread of Buddhism in South-east Asia and South Asia.

Even the travelogue of both Fa-Hien in 5 Century AD reported 22 Buddhist monasteries in Tamralipta and Huen Tsang in seven century AD reported of 10 Buddhist monasteries at Tamralipta, said Mr Patnaik.

Mr D Nariala, DM, Midnapore East, wrote to the minister stating that Buddhist link of Tamralipta was established in an article by Dr PK Maity on Buddhism at Tamralipta published in ideological studies by Abhinav Publication.

The article stated that following links of Buddhism at Tamralipta were established:
Tamralipta was one of the sites for the Ashokan pillar according to Huen Tsang
Mahendra and Sanghamitra, son and daughter of Emperor Ashoka, left for Sri Lanka to preach Buddhism with the Bo tree from Tamralipta port
In 1978 a few coins of Kushana King Habishka were found at Tamluk
Some terracotta plaques of 2nd Century BC found from Parbatipur area of Tamluk town depict scenes of Jataka stories
Two more mutilated plaques of the 1st Century BC found in Tamluk depict an imitation of a Buddhist stupa. Another plaque depicts a story as on the western gate of the Great Stupa in Sanchi.
?There is a museum in Tamluk run by the Centre which has some relics but we are corresponding with the Archaeological Survey of India if any further excavation could be carried out in this zone,? the secretary said.