The Dalai Lama turns 70 today
By Sugita Katyal, Reuters, July 6, 2005
NEW DELHI, India -- At one level, he's just a simple Buddhist monk who's devoted his life to prayer and meditation.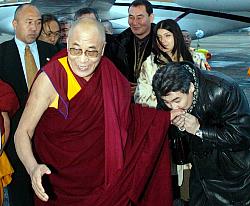 But at another level, Tibetan spiritual leader the Dalai Lama, who turned 70 on Wednesday, is much more: he's the head of an unrecognised government in exile, diplomat, Nobel Prize winner and, most importantly, one of the world's most enduring symbols of the struggle for freedom.
"Of course, I pray for my people and for the return of Tibet," the maroon-robed monk once said. "I pray for Tibet every day. But, also, I pray for China. I'm optimistic."
Over the years, the man Chinese authorities dismiss as a "splittist", or separatist, bent on dividing Tibet from China has climbed down and said he only wants greater autonomy, not independence.
But that hasn't altered the nature of his relationship with China.
It is more than 45 years since Tibet's god-king fled his homeland on horseback as Chinese shells rained down on his capital but many Tibetans do not expect to see him again, at least not in his current incarnation.
Since that famous journey, the 14th Dalai Lama, or Ocean of Wisdom, has lived as the head of a government-in-exile in the Indian hill town of Dharamsala and has himself hinted that he may not choose to be reborn after his death.
But many Tibetans still regard him as their spiritual and temporal leader and, although his photographs are banned in China, they privately say they yearn for his return.
"The Dalai Lama wants to give China a respectable way out of the Tibet problem where China has landed itself as a colonial master," said Vijay Kranti, a New Delhi-based expert on Tibetan affairs.
"But Chinese leaders failed to understand such overtures in the past."
FUTURE UNCERTAIN
Analysts say that the absence of a strong second-rung Tibetan leadership would create a vacuum after the Dalai Lama.
With no figurehead to talk to Beijing, it could spark unrest among young Tibetans who may espouse a more violent resistance than that of the exiled monk who won the Nobel Peace prize in 1989 for his peaceful campaign against Chinese rule.
Born in 1935 into a farming family in Tibet, the Dalai Lama was discovered at the age of two to be the 14th reincarnation of a great spiritual teacher.
A "favourite occupation of mine as an infant was to pack things in a bag as if I was about to go on a long journey. 'I'm going to Lhasa, I'm going to Lhasa', I would say", he wrote in his autobiography, "Freedom in Exile".
"This, coupled with my insistence that I be allowed always to sit at the head of the table, was later said to be an indication that I must have known that I was destined for greater things."
Today, he lives a simple life in a heavily guarded mountain home in what is known as "Little Lhasa" overlooking stunning snow-capped Himalayan peaks: he wakes up at 4 a.m. to meditate, finishes administrative meetings, meets people during the day and ends the day with prayers.
A cheerful man with a sense of humour, who's rarely seen without his prayer beads, he has a strong band of devotees from all over the world and is often visited by dignitaries and celebrities. Hollywood actor Richard Gere is a regular visitor.
Though one of the world's most enduring symbols of peace after Mahatma Gandhi and Martin Luther King Jr., the Dalai Lama still thinks of himself as just a simple monk.
"My message is the practice of compassion, love and kindness," he said.
"Compassion can be put into practice if one recognises the fact that every human being is a member of humanity and the human family, regardless of differences in religion, culture, colour and creed. Deep down there is no difference."