Dalai Lama Eager to Visit Russia, But No Permission Yet - Tibetan Official
Mosnews.com, November 11, 2004
Dharmsala, India -- Tibet?s spiritual leader, the Dalai Lama, would be happy to travel to Russia on a pastoral visit provided Moscow gave him a visa of its own accord the Reuters news agency reports, citing a spokesman for the Tibetan government-in-exile.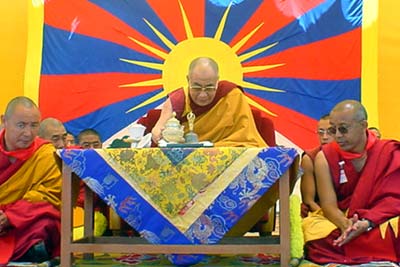 The presidents of the largely Buddhist Russian republics of Kalmykia near the Caspian Sea and Buryatia, which borders Mongolia, have invited the exiled leader on several occasions to visit their regions to meet local Buddhists.
?If a visa is given by the Russian government to His Holiness, the Dalai Lama, he would be happy to visit the Kalmykia republic,? spokesman Thubten Samphel told Reuters from the Dalai Lama?s base in the northern Indian hill town of Dharamsala.
?But until now, His Holiness has not applied for a Russian visa. His long-standing view and position is that he does not want to embarrass any government,? Samphel said.
He said Kalmyk President Kirsan Ilyumzhinov had asked the Dalai Lama, a Nobel Peace Prize laureate, to give religious discourses to Buddhists in the internal Russian republic.
Moscow has been hesitant to allow entry to the Dalai Lama to avoid a rift over the issue with China, which imposed communist rule on Tibet in 1950 after invading the Himalayan region.
The Dalai Lama fled in 1959 to India where he now runs the government-in-exile and a non-violent campaign for greater autonomy in his homeland.
China considers the Dalai Lama a separatist leader in religious robes. Russia, faced with a separatist revolt in Chechnya, says it considers Tibet an inseparable part of China.
Last week, however, the Interfax news agency quoted a Russian Foreign Ministry spokesman as saying that Moscow was considering whether to allow the Dalai Lama into Russia for a solely pastoral trip.
Russia has around one million Buddhist citizens, mainly in Siberia and near the Caspian Sea, who consider the Dalai Lama their spiritual leader.