All India Buddhist Society Passes Resolutions for Tibet
TYC, October 10, 2005
Bhopal, Madhya Pradesh (India) -- On the occasion of the GOLDEN JUBILEE YEAR of the formation of The Buddhist Society Of India, "ALL INDIA BUDDHIST CONFERENCE" was held on 8th and 9th October 2005 at Bhopal, Madhya Pradesh, India.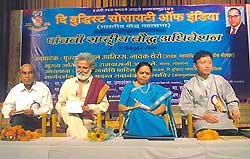 The conference witnessed the gracious presence of several personages including Respected Banval Upatiss Nayak Theere (President, Buddhist Society of Sri Lanka), Mr. Ramdas Aathwale (Member, Lok Sabha), Mayor of Bhopal, former ministers of the state, Buddhist Priest from various monasteries around the country and others.
The conference was also marked by the presence of around 1200 peoples from all over India. Among various issues discussed during this 2-day conference, the issue relating to Tibetan independence and the dismal state of Buddhism and its followers in Tibet was also included.
Mr. Tsering Dhundup represented Tibetan Young Buddhist Association, formerly formed by Tibetan Youth Congress to realize its goal of preserving and promoting Tibet's rich culture and religion. While speaking on the topic "The expectations from Indian Buddhists in Tibet's Struggle for Independence" he stressed on various reasons why Indian Buddhist should render their support in realizing the aspiration of six million Tibetans. He stressed that Tibet—right from its ancient history—has great cultural and religious affinity with India.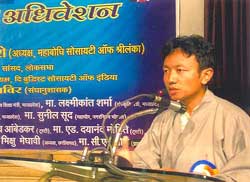 << Mr Tsering Dhundup addressing the participant about the issue of tibet and the plight of buddhism in Tibet - Photo by Akash Thool
Most important of all, Tibet's independence is in the interest of India and Indians as it is greatly related to India's security, economy, culture and environment. In addition, he also briefed the hall packed audience about the wretched state of Buddhism and its followers in Tibet. How the monastic institutions and their activities are all controlled by the Chinese authorities such as by setting up of "Democratic Management Committees".
He also urged the Indian Buddhists to support Tibetan cause by: educating peoples about Tibet and setting up various support groups in their area or region, writing to their MPs and MLA's to raise the Tibetan issue in the parliament, Boycotting goods made in china and passing a resolution through this conference supporting and recognizing the independence of Tibet.
On the second day of the conference Mr. Choekyong Wangchuk (India Tibet Coordination Office) highlighted the dismal state of Tibetan Buddhists in Tibet by citing the examples of Tulku Tenzin Delek. He also pointed out that under China's design to destroy Tibetan culture and religion, thousands of monasteries were destroyed and monks were thrown out, such as the recent case of Serthar Institute.
Various Indian dignitaries also expressed their concern for the Tibetan cause.
Mr (Prof.) Jogender Kawade, former minister of parliament stated. "Through this conference we all must pressurize and question Indian government, UN and all Buddhist community in world whose abject silence is going to destroy Tibet and Tibetans". While, Mr. P. G. Jyotikar, Trustee Chairman of BSI avowed, "Tibetans who consider us as their Guru are in great problem and it is our moral duty to help them [shishya]".
On the final day, a resolution relating to Tibet was unanimously passed that says, "This conference believes that Tibet was an independent nation before the communist China invaded it and forced His Holiness and thousands of Tibetans to flee their homeland. This conference passes the resolution urging Indian government to give Tibet the status of an independent nation and recognize Tibetan Government in Exile under the Leadership of His Holiness the Dalai Lama. The resolution also urges the Indian government to pressurize Chinese government to release all religious leader including XI Panchen Lama and Tulku Tenzin Delek". All in all this conference proved to be another stepping stone in gaining broad-based support for the Tibetan cause.