Dalai Lama begins teaching session in Dharamsala
New Kerala, Dec 12, 2005
Dharamsala, Himachal Pradesh (India) -- Hundreds of Buddhists from Korea gathered in Dharamsala for attending a five-day long teaching session by Dalai Lama, the Tibetan spiritual leader, that began here on Monday.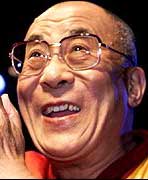 The teaching session, which is an annual feature, is being held for Taiwanese and Korean Buddhists in the headquarters of the Tibetan Government-in-exile after a gap of two years.
Do-Eung Surin, a Buddhist from Korea, said the teachings that took place in Indian capital New Delhi for the past two years were a lifetime experience.
"We have come from Korea. Almost 300 people have come to take His Holiness' teachings. This teaching is the way of the Bodhi Satva," Do-Eung said.
The Dalai Lama, a 70-year old Buddhist spiritual leader, had fled to India after a failed uprising by Tibetans in 1959, nine years after China's People's Liberation Army marched into Tibet to establish Communist rule.
The Dalai Lama runs a government-in-exile in the hill station of Dharamsala.
The Dalai Lama has renounced the goal of an independent Tibet and says he only wants more autonomy. China accuses the Dalai Lama with continuing to spark separatist efforts for the 2.7 million Tibetans and refuses to allow him back inside its borders.
In September 2004, private envoys of the Dalai Lama visited China as part of a delicate and slow-moving process to pave the way for dialogue on the future of Tibet.
Beijing, which imposed Communist rule on Tibet after its troops entered in 1950, established direct contacts with the Dalai Lama in 1979 and allowed him to send representatives on four fact-finding missions, the last of which was in 1985.
But it suspended official dialogue, mostly through the Chinese embassy in New Delhi, in 1993 and maintained only sporadic and unofficial contacts until 2003.
The Dalai Lama has said that China lacked the political will to address the issue of Tibet "sensibly" and "pragmatically". Beijing has refused to grant Tibet autonomy on the pattern of Hong Kong and Macau.
Tibetans say more than 1.2 million fellow countrymen have died in their homeland since Chinese rule because of violence.