Dalai Lama opens rare Buddhist congregation in Andhra Pradesh
By Ishak Mohammad, NewKerala, Jan 5, 2006
Amravati, Andhra Pradesh (India) -- Tibetan spiritual leader and Nobel laureate the Dalai Lama opened "Kalchakra" (wheel of time), the global conclave of Buddhist monks, in the Andhra Pradesh town of Amravati on Wednesday.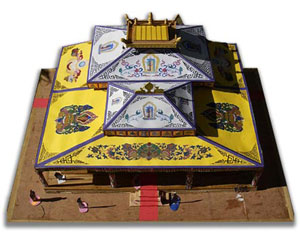 Monks and others, especially Tibetans in-exile, turned out in large numbers for the ceremony.
The 70-year old Buddhist spiritual leader fled to India after a failed uprising by Tibetans in 1959, nine years after China's People's Liberation Army marched into Tibet to establish communist rule. The Dalai Lama runs a government-in-exile in the hill station of Dharamsala.
Thousands of Buddhist students from colleges across India are camping in Amravati, which means "Deathless Realm" in the Buddhist scriptural language, for the main functions, which begin Thursday.
Around 100,000 monks, spiritual leaders and tourists from across the world are camping for the 10-day long ceremony.
Organisers of the Kalachakra thanked the provincial authorities for lending support.
"His holiness has the given the Kalchakra initiation on 29, this one is 30. The Kalchakra initiation which he is given in India, this is the most elaborated and also most facilities government has provided for the public," Kalsang Yeshi, chairman Kalachakra 2006.
The Kalchakra initiation is conferred by Dalai Lama to promote peace and tolerance. The initiation is considered a blessing for all participants.
The first four days of the Kalchakra ceremony are devoted to preliminary teachings. The initiation ceremony starts on the fifth day.
The Kalchakra (wheel of time) ceremony is a profound system of teachings and practice of the Buddhist faith.
The ritual was first performed by Lord Buddha over 2,500 years ago at the request of King Shambhala, who ruled a mythical or historical kingdom located beyond the Himalayas.
The ceremony has three aspects, the Outer Kalchakra pertaining to the external environment, the Inner Kalchakra pertaining to sentient beings living in the universe and the cycles of time, life and death.
And the Alternative Kalchakra, which is the third stage, consists of the practice of purification undertaken by an individual. Its importance also lies in the fact that the faithful believe that the initiation helps in promoting world peace, harmony and brotherhood.