Kalachakra enters crucial phase
Business-Standard, January 13, 2006
Amaravati, Andhra Pradesh (India) -- Amid solemn ritual and dance performed by the monks of Namgyal monastery in traditional attires, the Tibetan spiritual leader, the Dalai Lama, in the early hours of Wednesday, invoked 722 deities, including the principal deity of Kalachakra, and invited them to enter and stay in the 'mandala', a symbolic sand figure of purified universe and its beings.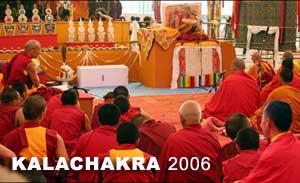 The Dalai lama himself made the 'mandala' with multi-coloured sand. With this, began the crucial ritual phase of the international Kalachakra-2006 empowerment congregation.
Later in the day, thousands of trumpet-blowing Buddhist monks, Tibetans and foreigners took out 'Gyava Chamba' icon (Kalachakra), the impending Bodhisatva avatara of the Buddha, in a procession in the town. The procession went round the world famous Amaravati Buddhist Mahachaitya.
The Dalai Lama, addressing the gathering, again appealed to the state government to develop Amaravati as an international Buddhist learning centre with emphasis on Nagarjuna's teachings.
"The shrine has a vast potential to become a world tourist attraction, giving a boost to the local economy," he said and added that the state should at least set up a Buddhist academic institution here as a beginning.
The Kalachakra empowerment (perfect wisdom) is given on the basis of the sand 'mandala' in which the principal deity, 'Kalachakra', now begins to reside till the end of the festival on January 16.
The coloured sand, made from crushed precious stones, is considered the most efficacious material for creating the 'mandalas' in exquisite detail. Since each grain of sand is charged with the blessings of the ritual process, the sand 'mandala' embodies a vast store of spiritual energy.
The 722 deities symbolise various manifestations of consciousness and reality, all part of the ultimate wisdom of Kalachakra. The Kalachakra deity resides in the centre of the mandala. His palace consists of four mandalas, one within another: the body, the speech, that of mind, and at the very centre, wisdom and great bliss.
The palace is also divided into four quadrants each with walls, gates, and a centre. The colours are specific representations of the elements and mental types. Black, in the east, reflects the wind. The reddish south is fire, yellowish west is earth, and the whitish north represents water.
The square palace of the 722 deities is based upon elemental 'mandalas', depicted by concentric circles, which represent the earth, water, fire, wind, space, and consciousness extending beyond the wall of the palace. The outer circles, a representation of the cosmos, are a source of Tibetan astrology. The ten wrathful deities, who reside in one of the outer circles of the mandala, protect it.
"A look at the mandala can generate peace among devotees," said the Dalai Lama. "The Kalachakra deities create a favourable atmosphere, reducing tension and violence in the world," he added.
Governor Sushil Kumar Shinde visited the Kalachakra site and received blessing from the Dalai Lama.