India tourism eyes Buddhist tourists
WebIndia123, February 13, 2006
New Delhi, India -- The Japan Bank for International Cooperation (JBIC) has committed Rs 1000 crore for the development of infrastructure linking places of Buddhist importance even as the India Tourism is all set to launch "walk with the Buddha" campaign, coinciding with the 2500th anniversary of Mahaparinirvana of Buddha, to promote Buddhist sites in a big way among the domestic and foreign tourists.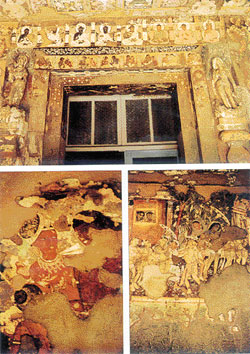 Tourism and Culture Minister Ambika Soni told mediapersons that the JBIC fund would be utilised for the construction of roads and airports linking Buddhist sites of historical importance, besides conservation and preservation of Buddhist monuments.
"Walk-with-the-Buddha campaign will be launched soon so that the tourists from countries with predominantly Buddhist population could be attracted. The campaign is aimed at inculcating a sense of pride," she said.
Tourism Joint Secretary Ambitabh Kant told UNI later that the JBIC funding was meant for all the Buddhist circuits in India.
He said a sum of Rs 150 crore had already been spent on the development of Ajanta and Ellora under the first phase of the Tourism Ministry's old scheme to create Buddhist circuits. In the second phase, a sum of Rs 300 crore had been sanctioned for the development of other places of Buddhist importance in Maharashtra.
Uttar Pradesh was sanctioned Rs 600 crore under the same scheme for popularising a Buddhist circuit linking places of importance in that state.
Ms Soni said the Buddhist sites in Bihar would be developed as part of the 2500th anniversary of Mahaparinirvana of Buddha.
In keeping with this policy, the year-long anniversary celebrations were launched at Nalanda.
She said the North East and Jammu and Kashmir would receive priority in the matter of tourism development.
Regarding the shortage of hotel rooms to cope with the increasing flow of foreign tourists, Ms Soni said she would soon hold discussion with her counterparts in states to tackle the situation.
"There is a demand for 100,000 rooms, most of them in the budget segment." The states would be asked to identify hotel sites and undertake transparent negotiations and launch new projects in the joint sector.
In this context, she pointed out that the Indian Railways had committed 100 sites for constructing "yatri niwas" type accommodation.
On the suggestion of Prime Minister Manmohan Singh to end different tariff for foreigners and domestic tourists in monuments, she said "the ministry will see how best we can make it happen." The Minister said all the 26 world heritage sites in India, including 19 monuments, would be well maintained and illuminated.
Asserting that the Tourism Ministry would give a big boost to Rural Tourism, she said as many as 69 villages had already been identified.