Dalai Lama in culture sermon to China
By MANJEET SEHGAL WARRIOR, The Telegraph (India), November 23, 2004
Shimla, India -- The Dalai Lama has urged China to recognise Tibet?s cultural identity in the wake of Beijing?s apparent desire to get him to publicly accept both his homeland and Taiwan as parts of China.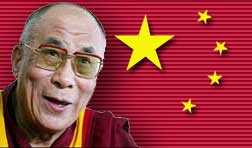 ?Tibet has its own historic background which cannot be erased. China is repeating that Tibet has no cultural identity. Now, the time has come when China should change its psyche about Tibetans,? the Dalai Lama said on Sunday.
He was speaking after inaugurating the Tibetan Children Village School at Chauntra in Himachal Pradesh?s Mandi district, 135 km from Dharamsala, the seat of the Tibetan government in exile.
On a recent visit to South Africa, the Tibetan spiritual leader said he was not demanding independence now but wanted an assurance from the Chinese government that the cultural identity of Tibetans would be safe in its hands.
?If we remain within China, we might get greater benefit, provided it respects our culture and beautiful environment and gives us some kind of guarantee,? the Dalai Lama had said in a recent interview to Time magazine.
Tibetan culture, he had said during his Johannesburg tour on November 4, has assumed international significance and nobody can deny its presence.
?We?re facing many challenges. We have been fighting for our fundamental rights for a long time. I hope the principle of non-violence would pave the way for success one day,? he said on Sunday.
In South Africa, the Dalai Lama had said he was keen to visit Tibet and see his people.
?Now, still I have keen desire to visit my own place and China, especially now 2004 means exactly 50 years since my first visit to China, that was 1954-55,? he was quoted as saying by the South African press.
During the China visit of the Dalai Lama?s two envoys on September 12 this year, they had requested Beijing to allow him to visit both his homeland and China, Central Tibetan Administration sources said.
The request, the sources added, was turned down. ?China,? they said, ?is keen to give conditional access to the Dalai Lama, with the string attached that first he should accept in principle that Tibet and Taiwan are inseparable parts of China.?
The Dalai Lama was told through the envoys that he should make a ?public announcement? to this effect, according to the sources.
The hurdle in his visit to China is its unwillingness to accept him as a spiritual leader. According to the Chinese government, the Dalai Lama is a political worker who, in exile, is planning to divide China.
?I have told thousand times...and the world knows that the Dalai Lama is not a separatist but the Chinese government and Chinese media still call me a separatist,? the Dalai Lama was quoted as saying by the South African press.