Buddhist prayer in honour of revered Thai King
TNA, June 8, 2006
BANGKOK, Thailand -- A panel of Thailand's top monks from significant Buddhist temples across the country's capital--Bangkok-offered a prayer in honour of His Majesty the King Thursday evening, marking the auspicious occasion of the beloved monarch's 60 years on the throne.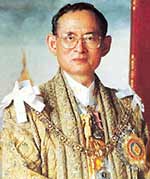 << His Majesty King Bhumipol Adulyadej, The King Of Thailand
Their Majesties the King and Queen, as well as His Royal Highness Crown Prince Maha Vajiralongkorn, Her Royal Highness Princess Maha Chakri Sirindhorn and other members of the Royal Families attended the blessing prayer, organized at Amarin Winitchai Throne Hall in the Royal Grand Palace.
Members of the Privy Council, the cabinet, as well as senior government officials and military and police officers also attended the prayer.
His Majesty the King, as well, presided merit making ceremonies for all the late Kings and Queens, as well as the Late Prince Father and the Late Princess Mother and other late royalty of the Chakri Dynasty.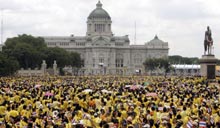 Thais pay tribute to their King by wearing >>
yellow and waving Thai flags outside Dusit Palace. [Reuters]
A grand merit making to offer alms to 161 Buddhist monks will also be organized at Sanam Luang ceremonial ground here early Friday morning, in which people from all walks of life are invited to take part to pay tribute to His Majesty the King on the auspicious occasion.
People of other religions in Thailand also organize religious rites and ceremonies in honour of the revered monarch.
Members of the public are also invited to look on music concerts and cultural shows from all parts of the kingdom being organized in the evenings at Sanam Luang by the public and private sectors as part of the nationwide celebrations of the 60th anniversary of His Majesty the King's accession to the throne.