Maroon robes with Zidane T-shirt for Buddhist monk
By Syed Zarir Hussain, Indo-Asian News Service, July 9, 2006
Gangtok, Sikkim (India) -- Little Khepuk Bhutia, a tribal Buddhist monk in the eastern state of Sikkim, is a football fanatic, wearing a T-shirt embossed ZZ (Zinedine Zidane) beneath his maroon robe. And on Sunday when France and Italy clash in the World Cup finals, nine-year-old Bhutia will stay awake hoping his favourite team wins.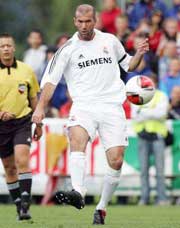 << French soccer maestro, Zinedine Zidane
'I like Zidane for his striking abilities. He will surely score goals in the finals and win the match,' Bhutia told IANS at the Choten monastery in Sikkim's capital Gangtok.
Like Bhutia, some 600 other child monks here are rooting for France, although some among them also support Italy.
'We have been offering prayers to get a good match and hope the French team wins the cup,' another little monk, who identified himself as Sonam, said. His excitement is shared by close to 120,000 Buddhists in Sikkim, a remote Himalayan state of around 540,000 people snuggled between China's Tibet region, Bhutan and Nepal.
Such is the craze for football among the tonsured lamas that during breaks, they leave their scriptures and kick around anything from a Coca-Cola can to a tennis ball in the courtyard of the sprawling monastery.
'Football is one of the favourite sports among the monks here,' said chant master Kunzang Norbu. Like billions of other people around the world, 15-year-old Rolien Lepcha, another monk, has been avidly following the World Cup - and especially his favourite team, France.
'The biggest problem is to get up from bed for the early morning prayers at 5 a.m. after watching the match due to the time difference between Germany and India,' said another young monk, quickly leaving the prayer hall to join a group of lamas playing football in an open space outside the Enchey monastery in Gangtok.
There is no bar on the monks to watch football matches on television, unlike in some monasteries where watching TV is prohibited.
'We shall watch the match on TV although we are not supposed to shout,' Bhutia said.
The loud cheers could be missing, but then the monks would definitely relish the game on TV by expressing their happiness silently without disturbing the religious sanctity.