Prominent Indian female politician to embrace Buddhism
The Hindu, Oct 17, 2006
New Delhi, India -- Bahujan Samaj Party (BSP) chief Mayawati and her followers will embrace Buddhism after the BSP gains an absolute majority at the Centre.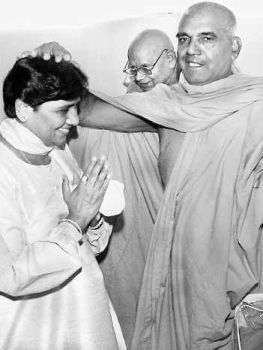 << BLESSINGS: Bahujan Samaj Party supremo Mayawati seeking blessings from a Buddhist monk after paying homage to Kanshi Ram in New Delhi on Monday. PHOTO: SHANKER CHAKRAVARTY
Ms. Mayawati announced this on Monday at the conclusion of the seventh day rites of party founder Kanshi Ram which were conducted according to Buddhist tradtions at her New Delhi residence.
Addressing the press, she said that although Kanshi Ram did not convert to Buddhism, he was Buddhist by belief. It was exactly 50 years ago, on October 14, 1956, that Babasaheb Ambedkar converted to Buddhism. "It was Manyavar's dream to see the BSP in power at the Centre, and in the States, before the 50th anniversary of Babasaheb's conversion. Unfortunately, that did not happen," she said.
What was the connection between political power and religious conversion? The BSP chief said power was essential to spread any faith.
"It is not about me becoming a Buddhist. I could do it today but it would be just me. We have to spread the faith for which absolute majority at the Centre is a pre-requisite."
Ms. Mayawati said she lit the funeral pyre of Kanshi Ram because both she and her mentor strongly believed in gender equality. "It was his view, and also mine, [that] boys and girls are equal in all respects. If a girl can discharge other responsibilities, there is no reason why she cannot perform the last rites of her near and dear. I believe that my gesture is an example for other women; by lighting the funeral pyre of my guru I have laid the foundation of future social transformation."