India enshrines Buddha's remains after 2000 years
By Laura MacInnis, The Star (Reuters), Oct 29, 2006
MUMBAI, India -- Thousands of Buddhists gathered in Mumbai on Sunday to lay to rest part of the ashes and bones of Lord Buddha in a ceremony resurrected after almost 2000 years.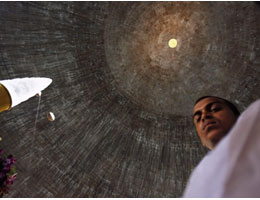 << A boy stands next to a crystal to be put up atop the dome above, as he attends a Buddhist ceremony in a newly constructed pagoda in Mumbai yesterday. Thousands of Buddhists gathered for the ceremony held to lay to rest part of the ashes and bones of Lord Buddha
Monks in flowing orange robes chanted hymns from scriptures as the remains were lowered into a shallow pit on top of a 90-ft high stone dome, as part of celebrations to mark the 2,550th anniversary of the spiritual leader's enlightenment.
Organisers of the ceremony said this was the first time in around 2,000 years that Buddha's mortal remains were being enshrined.
"The relics now kept in this magnificent pagoda came from an ancient dome discovered during an archaeological expedition in south India in early-1900s," Acharya S.N. Goenka told reporters.
After Buddha's death, his remains were divided and kept in eight separate domes built by his disciples across Asia.
They were later taken by Buddhist convert Indian emperor Asoka, who placed them in many smaller domes about 2000 years ago.
The remains being enshrined on Sunday were found in an ancient pagoda in southern India in 1920 and have been kept in a Buddhist monastery for over 85 years, before being handed over for enshrining.
Buddhists, some of whom came from other parts of the world, including the United States, Britain, Australia and Cambodia, sat in meditation inside the dome, which can accommodate 8,000 people, many looking up in the direction of the roof where the remains of their guru lay.
According to believers, the enshrined relics of their leader emit spiritual energy and vibrations which helps meditation.
The organisers said the newly-constructed dome was unique as it was not only the world's largest stone dome unsupported by pillars, but was built with millions of inter-locking stones using ancient architectural techniques.
"No cement, concrete or metal has been used. There are no pillars to support the dome which is 280 feet in diameter," said Subhash Chandra, a Buddhist and an Indian media baron.