Tallest Buddha statue coming up in Sarnath
ANI, Nov 29, 2006
Its height will be second only to the Bamiyan Buddhas
SARNATH, Uttar Pradesh (India) -- A number of sculptors in Sarnath in Uttar Pradesh are busy chiselling an eighty feet tall statue of the Buddha, which will be the world's tallest Buddha statue after the ones demolished in Afganistan's Bamiyan valley under the Taliban regime.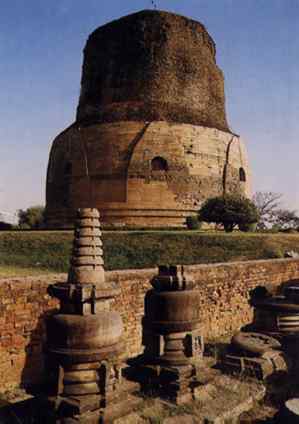 << The Great Stupa at Sarnath will soon get a companion in the shape of the tallest standing Buddha in the world
The tallest Buddha statue is part of an old project, which started ten years ago but had to be put on hold in the wake of financial problems. The work was resumed three years ago with the assistance after the Government of Thailand extended its help for the project. It will take three more years to complete the statue.
``We are making a statue of Lord Buddha with the help of Thailand government. It will be the tallest statue of Buddha in a standing position and it comes second in height only to the Bamiyan Buddhas [statues]. It has been more than 10 years since we began work, and now we are also creating awareness about its construction,'' said Mohan Lal, designer of the statue.
``At least 20- 25 artisans are working on this statue for over three years.... it will take three to four more years to complete. Right now, we are through with the stomach, feet and the face. Two or three months will be taken for the finishing work,'' said Jyoti Singh Khushwaha, the contactor undertaking the construction of the statue.
Workers at the site said the statue would use over 635 blocks of sandstone and would be made in the Gandharva style, which laid great significance to it. The Buddha attained enlightenment at the age of 35 in Bodh Gaya in Bihar and finally departed from the world at the age of 80 in Kushinagar.
Situated 10 kilometres away from Varanasi, Sarnath is the place where the Buddha is believed to have delivered his first sermon in 500 B.C. The place has a number of stupas (hemispherical domes) and monasteries. In the early days of Buddhism, stupas were built to honour important events including Buddha's enlightenment.