A slice of history from the Buddha to Nehru
by Mandira Nayar, The Hindu, Dec 14, 2006
Exhibition is being held at Nehru Memorial Museum and Library till February 15.
NEW DELHI, India -- It is a wheel that most "desis" really take for granted. But the chakra that appears on the National Flag in navy blue was chosen carefully for a purpose.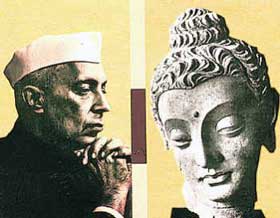 As India's first Prime Minister Jawaharlal Nehru put it, "... Our minds went back to many wheels but notably one famous wheel, which had appeared in many places and which all of us have seen, the one at the top of the capital of the Asoka column and many other places. ... For my part, I am exceedingly happy that in this sense indirectly we have associated with this Flag of ours not only this emblem but in a sense the name of Asoka, one of the most magnificent names not only in India's history but in world history... ."
Bringing alive the links between Nehru and the Buddha now is an exhibition that celebrates this connection on the occasion of the 2550th anniversary of his Mahaparinirvana. Aptly titled "Lord Buddha through the eyes of Jawaharlal Nehru", the exhibition will take viewers on a rediscovery of this relationship.
From the story of Gautam Buddha through pictures to the visits that Nehru paid to all the Buddhist shrines, the exhibition aims to live up to the title. There are also big panels of full of pictures of all the important places associated with the Buddha.
Apart from going on a Buddhist pilgrimage through these pictures, the exhibition also showcases statues of the Buddha that were presented to Nehru. Attracted to his philosophy because of its "scientific" approach, Nehru is believed to have recounted the reason: "... the story of Gautama Buddha has influenced me from my childhood.
That influence was twofold. First, it interested me as a story, and secondly, I liked the scientific attitude reflected therein, the scientific and ethical attitude... ." The exhibition has images and the speech made by Nehru on the occasion of the 2500th anniversary of Mahaparinirvana of Lord Buddha.
The exhibition is being held at the Nehru Memorial Museum and Library. It will be on view up to February 15.