TVA Brings Vegetarianism to Buddhism's Birthplace
By Caroline Martin, TVA, December 30, 2006
Bodh Gaya, India -- It has become an annual Dharma Woodstock: Buddhists from every sect and country have again converged at the Mahabodhi Mahavihara in Bodh Gaya, the place of the Buddha's enlightenment, for the Kagyu Monlam Chenmo.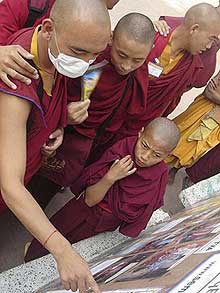 << Photo by Caroline Martin
Presided over by His Holiness the 17th Karmapa Ogyen Trinley Dorje, Monlam is 9-day festival of Buddhist prayers and teachings amid the tranquility of leafy Bodhi trees and lofty temple spires. Devotees meditate, do kora and prostrate to the soothing chanting of monks gathered by the Vajrasana shrine.
The Tibetan Volunteers for Animals (TVA) photo exhibit is a jarring - but important - wake-up call near the entrance to this place of peace. Monks in robes of all colours from every Buddhist nation, Tibetans in traditional dress, Western practitioners, and local Indian tourists swarm round the photos. Hands cover mouths in astonishment, fingers point with amazement, and jaws drop open, staring in disbelief at the photo display - which shows the truth about meat-eating and the animal suffering it causes in the slaughterhouses of India.
TVA volunteer Jigme explained the display to a group of newly arrived Tibetans, who clucked their tongues and shook their heads in horror when they learned the reality behind their diets. Visitors crowded round the table, poring over issues of TVA's magazine Semchen to read, in Tibetan and English, about the importance of following the Buddha's teachings by living meat-free.
By the end of their first day in Bodh Gaya, TVA had distributed 300 audio and video CDs - of 93-year-old Kyabje Chatrel Rinpoche's speech on vegetarianism, as well as the Love & Mercy documentary, which graphically illustrates animal slaughter in India - sold 200 magazines, and collected some Rs 4,000 in donations. Volunteers were interviewed and photographed by local newsmedia, including Aaj newspaper of Patna and Sahara Samaya TV News.
Going meat-free has changed many lives, including those of TVA's traveling volunteers. Seventeen-year-old Sonam Palyang chose to spend her two-month school leave on the road with TVA. "From birth, I was compassionate and always had great care for animals. After seeing Love & Mercy, I could no longer eat meat. Now I have been vegetarian for more than three years," she explains. By volunteering, Sonam will learn more about promoting vegetarianism in her school at home in Himachal Pradesh, where she is an active TVA member.
Lobsang Chodon also used her vacation to volunteer in BodhGaya with TVA. She faces opposition from her family members who insist she eat meat "for health reasons. But I refuse. "In this life, we get a good opportunity to follow Buddhism - so we should use this life to do something for others."
Buddhists from all over the Himalayan region are welcoming TVA's message to stop the slaughter. Surendra came from Nepal, where animal sacrifice is a part of everyday life. But after seeing TVA's displays, Surendra was convinced. Sitting down to lunch, he said, "This is my first time ever ordering veg chowmein. Always before, I had chicken or buff." A few days later, after the first meat-free week of his life, the 29-year-old said with conviction, "I can't even think of meat anymore. Now, my body feels much lighter, and my mind is more clear."
Nikesh, a shy 28-year-old Hindu native of BodhGaya, agreed. "I had to stop taking non-veg," he said, as he purchased a Semchen magazine. "If I take non-veg, my mind can be very crazy. I have more mental peace being vegetarian. If you stop the killing, it would be nice for the animals. If you take non-veg, you can't get a peaceful life! You can't get a good feeling inside your heart." Because of his example, Nikesh's family are now all vegetarian. "Some friends are using non-veg, but I suggested they stop this. This way, we can change society and the world."
Lohitaksha and ZhangZan are Buddhists from Beijing in mainland China, where every kind of meat, even dogs, monkeys and insects, are consumed. But Lohitaksha has been a staunch vegetarian for twelve years. "It's very difficult in China - we have to support each other. So ZhangZan opened a vegetarian restaurant in Beijing!" ZhangZan adds, "My Buddhist practice inspired me to open the restaurant, and I have eaten no meat for four years. In Beijing and Shanghai, vegetarianism is gaining popularity."
Dean, a 45-year-old American Buddhist, stopped by to support the TVA. "My teacher, Geshe Zopa, says the fastest way to ripen your positive karma in this lifetime is the liberation of animals. Everything from going vegetarian to releasing captive birds and fishes will accumulate tremendous merit, more than any other action."
After five outstanding days promoting a cruelty-free life to Buddhists from every nation, it was time for the TVA volunteers to pack up and move on. Next stop: Karnataka and HH the Dalai Lama's teachings at Hunsur. "Many Tibetans are talking about Buddhism," said TVA founder Rapsel Tsariwa, "but it's more talking than practice. In order to really practice Buddha's teachings, we have to stop the killing." More and more, the traditionally meat-loving Tibetans agree.
---------------------
Caroline Martin is a writer and photographer based in Kathmandu, Nepal. Contact her at www.sirensongs.blogspot.com