Dalai Lama charms Tripura
Telegrapgh of India, Jan 18, 2007
Agartala, India -- Nobel laureate and Buddhist spiritual leader Dalai Lama today enthralled his audience in the state capital with his erudition and simplicity.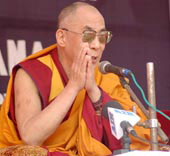 << Dalai Lama at Venuban Vihar in Agartala on Thursday. Picture by Eastern Projections
Dalai Lama started the last day of his stay in Tripura by delivering a religious discourse at Venuban Vihar, a Buddhist monastery in north Agartala. He counselled Buddhist monks on the rituals of worship and explained the inner philosophy of Buddhism to Buddhists who had thronged the vihar from all over the state.
Later in the day, he attended a programme at the Agartala Town Hall, where he spoke on Secular Ethics and its relation to humanism. Replying to a volley of queries, Dalai Lama said he would consider returning to his homeland in Tibet only after the restoration of "mutually agreeable conditions" but refrained from elaborating on the conditions. Describing himself as a "humanist Marxist", he expressed his opposition to all "totalitarian systems".
Accusing China of giving a distorted picture of Tibet, he said, "The Chinese are Han chauvinists and more nationalists than communists". He added that the situation in Tibet would have been far better if the Chinese communists had followed Lenin's policy towards minorities and smaller nationalities. The supreme Buddhist leader, however, had a compliment for the late Mao Zedong. "I had face-to-face discussions with Zedong on several occasions. He could at least understand the problems, though he never gave us any respite".
He compared Buddhism with communism, saying Marxism preached many ideals enshrined in the Buddhist philosophy of life. "I support the economic ideals and policies prescribed by Marxism because capitalism has intensified the sufferings of the people. But the totalitarian system established in the name of Marxism is unacceptable".
The Dalai Lama is scheduled to leave for Calcutta en route to Dharmashala in Himachal Pradesh tomorrow.