Raising awareness about animal cruelty within the Tibetan community
By Marco Kraus, Phayul, March 13, 2007
Dharamsala, India -- It is during H. H. the Dalai Lama's spring teaching session in Dharamsala (North India) that I met the members of Tibetan Volunteers for Animals (TVA) group. They are a non-profit organization that works with a team of 6 people to create awareness among the Tibetan communities in India and Nepal about animal cruelty. This cruelty is the result of the demand for meat as food and the demand for animal fur.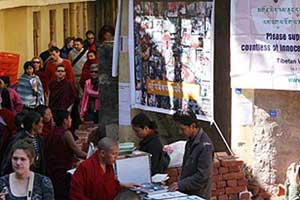 Outside the Dalai Lama temple, where the Dalai Lama is holding his teachings, TVA has a stand. They aim to draw people's attention to animal cruelty with banners, selling CDs and selling their annual magazine.
Their main target audience is the Tibetan community who are mostly Buddhist. In the Buddhist religion it is not acceptable to eat meat of any kind. Buddhists believe in reincarnation and every living being has a right to live.
However in years gone by eating meat, as a supplement to a poor nutritional diet, was accepted. These days it's not necessary anymore to eat meat for nutritional purposes. There are plenty substitutes available but many Tibetan people still eat meat out of habit, even when their religion does not allow it.
TVA works to make people aware of this through education in schools and being present at manifestations. They provide information about the benefits of vegetarianism and the cruelties done to animals, for the sake of the meat-eaters benefit.
They use effective methods such as showing uncensored videos about animal cruelty and showing interviews with people telling their personal opinion. In Dharamsala they screened a video documentary for about 1000 people on 9th March. This video of 1 st hand evidence of the cruel practices currently being used on animal farms and in slaughterhouses was shocking to say the least. Many sighs of disgust were heard and many people looked away from the screen because the footage was so graphic. However, it is necessary to see this footage in order to understand the truth behind how animals are treated.
Cows that are not able to walk because they are kept in tiny spaces, pigs that are thrown alive in boiled water, castrating little pigs without any antistatic, skinning animals alive for their fur and letting them die on a pile together with the others, butchering cows by slitting there throats and letting them bleed to death, kicking and beating animals to death, the list is endless.
These methods were banned a long time ago in Europe but they are shamefully still widely practiced in India and Nepal. Today TVA is trying to put a stop to these practices through education and by promoting vegetarianism. And its working. Many people commit to being vegetarian. It is only through people's refusal to eat meat that an end can be put to the senseless and cruel slaughter of animals
For more information please visit www.FreeAnimal.org