Richard Gere in raging controversy over kiss
By Walter Jayawardhana, Lanka Web, April 18, 2007
Colombo, Sri Lanka -- Angered by the public embracing and kissing of India's leading actresses Shilpa Shetty by Hollywood actor Richard Gere, furious mobs in India burnt effigies of him at several demonstrations across the country.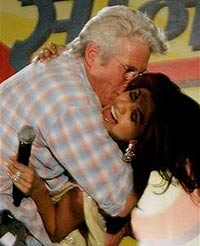 << Gere kisses Shilpa repeatedly on stage at an Aids/HIV Awareness event in India
Observers said it was ironic for Richard Gere to be at the center of such anger in the country of Buddha's birth. The actor is known as the most famous Buddhist in the United States who meditates daily, and as a compassionate man who is extremely keen in eradicating Aids/HIV from India
As pictures of Richard Gere kissing Shilpa Shetty on her cheeks and embracing her was flashed across the country's newspapers Shiv Sena, a conservative Hindu group burnt effigies of Richard Gere and set fire to glamorous pictures of Shetty.
Richarde Gere bent and swept the popular Bollywood actress Shilpa Shetty into his arms and several times kissed on her cheeks before a cheering crowd at the Aids Awareness event in New Delhi.
While according to his American customs it was nothing wrong to embrace and kiss a lady in appreciation it is considered taboo in Indian culture.
Similar to the Mumbai demonstration anti-Gere demonstrations have been reported from Varanasi, a conservative Hindu town and the Northern town of Meerut.
The kiss got utmost publicity as it was done before a press conference which was held to spread AID /HIV awareness especially among the New Delhi truck drivers as the disease is spreading among them rapidly.
Although Shilpa Shetty was giggling when Gere kissed her hand after the embrace she said, " This is bit too much."
But when the controversy was spreading the country and effigies were being burnt Shilpa Shetty said, ""I understand this is his culture, not ours. But this was not such a big thing or so obscene for people to overreact in such manner," trying to mitigate the tension. She said it was bad to let a foreigner to carry bad memories of the country.
Shilpa Shetty became an international star after she appeared in the British TV reality show "Celebrity Big Brother."
Presss Trust of India news agency quoted a spokesman of the Opposition Bharathiya Jantha Party as saying, "Such a public display is not part of Indian tradition."
Richard Gere has been hailed as the second most famous Buddhist in the world , the first one being his spiritual guide, Dalai Lama.
In modern times no body else has done so much to spread Buddhism in the United States like Richard Gere. He provided the main financial support (together with other Hollywood celebrities such as Harrison Ford and Sharon Stone) for the Dalai Lama to visit America to give lectures on Buddhism to the American Public,which converted thousands each time to the Indian religion.
In spreading Buddhism to the West, he is performing the role of such pioneers like Anagarika Dharmapala and Henry Steele Olcott. He even influenced Latin star Jennifer Lopez to become a Buddhist. He has authored books on Buddhism with Dalai Lama and spent thousands of his earning hours to spread the word of the Buddha.
He once said, "Sponsoring dharma books is important to me-translation, publishing-but I think the most important thing I can do is help sponsor teachings. To work with His Holiness and help sponsor teachings in Mongolia, India, the United States and elsewhere-nothing gives me more joy."
He was formerly married to Cindy Crawford (who said she got sick and tired of Buddhist rituals and sought divorce from Richard). His present companion is the pretty Carey Lowell, also a devoted Buddhist, who is a "Bond girl" for the James Bond movie License to Kill where she acted as a tough talking bush pilot.
He made a number of movies including An Officer and a Gentleman, American Gigolo, Pretty Woman and recently, Run Away Bride. He was also selected as the sexiest man in 1999 by Peoples Magazine .He has won a Golden Globe award for the best actor
Once again he is in a controversy like before. But by a mere kiss he has brought AID/HIV awareness to hundreds of thousands of people in India.