Revival of Buddhism is not hostile to Hinduism: Kalon Tripa
TibetNet, May 22, 2007
Dharamshala, India -- The movement to revive Buddhism in India should not be viewed as the opening of a hostile front against Hindu society, Kalon Tripa Samdhong Rinpoche said here Saturday last.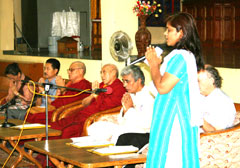 << Kalon Tripa Samdhong Rinpoche addressing the audience, emphasising that Buddhist revival will not be detrimental to Hinduism
He was addressing the inaugural session of a three-day interactive forum of 30-odd Tibetan and Indian Buddhist scholars, including followers of Bhimrao Ramjo Ambedkar, here at the College for Higher Tibetan Studies in Sarah.
Present at the forum were Kalon Tsering Phuntsok, Kalon Thubten Lungrig, Kalon Kesang Yangkyi Takla, Geshe Lhakdor, and Geshe Kesang Damdul.
The panel of Indian resource persons included such world-renowned scholars as Dhammachari Lokamitra, Naresh Mathur and Dharmachari Subhuti.
The idea of such interactive forums to foster better communication and understanding among various Buddhist communities was first conceived when His Holiness the Dalai Lama visited Pune in October 2005.
History has no precedent for how Buddhism became so widespread in the last four decades, Kalon Tripa said, adding that socio-political compulsions are always a major factor in the progression of a religion.
Although initially the motives for embracing Buddhism may differ from person to person, once a person takes refuge in the Three Precious Jewels, motivation of that person can gradually be reformed.
Kalon Tripa said that Babasaheb's embracing of Buddhism is one of "the great, great historical events of the 20th century"--one that transformed the entire social fabric of the Republic of India.
"In fact, it would not be inappropriate if we were to address Babasaheb as a Bodhisattva."
Kalon Tripa pointed out that the social activism and connectivity that Buddhism enjoyed in Babasaheb's lifetime has steadily whittled down in the subsequent years.
Kalon Tripa however strongly refuted the allegations that Babasaheb embraced Buddhism only as a political reaction to the repressive casteism, rather than as a means to attain salvation.
If he had wanted to open a hostile front against Hindu society, Kalon Tripa said, Babasaheb would have been wise enough to know that Buddhism is least effective in matters of vengeance.
On the contrary, his choice of Buddhism was a conscious and rational decision, motivated by pure dharmic intentions, following decades of undertaking thorough studies, Kalon Tripa added.
Kalon Tripa further said that due to the lack of a proper system for in-depth religious education and training, the post-Babasaheb period has witnessed a lot of misinterpretation and misinformation--like Buddhism being an offshoot of Hinduism!
He said that the revival of Buddhism cannot be done by a particular people of a particular country.
Buddhism can be restored to its rightful place only when it will have a mass social base, this in turn can only be possible with the collaboration and cooperation of the people from both the Mahayana and Thereveda traditions of the Buddha dharma, Kalon Tripa said.
Kalon Tripa further added that the forum, a first of its kind, must chalk out a realistic action plan that can be implemented by the Central Tibetan Administration, NGOs and various educational institutions.
Bhimrao Ramji Ambedkar (1891-1956) was a Buddhist revivalist, Indian jurist, scholar and Bahujan political leader who is the chief architect of the Indian Constitution. Born into a poor Untouchable community, he spent his life fighting against the system of the Indian caste system. Ambedkar has been honoured with the Bharat Ratna, India's highest civilian award, given for the highest degree of national service.