First meeting of Nalanda group in Singapore
IANS, July 10, 2007
Patna, India -- The first meeting of the Nalanda Mentor Group, headed by Nobel laureate Amartya Sen to oversee the opening of an international university in Nalanda in Bihar will be held in Singapore July 13-14.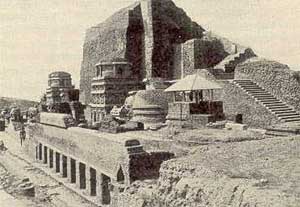 "The Nalanda Mentor Group will discuss the proposal of support and help of Singapore, Japan and other countries and the syllabus of the proposed university at its first meeting," officials said on Monday.
The meeting will be attended by Amartya Sen and other members, including Singapore Foreign Minister George Yeo, government officials from China and Japan, Lord Meghnad Desai, Sugata Bose, a grand nephew of Netaji Subhas Chandra Bose who teaches at Harvard University in the US, and some experts on Buddhism. Singapore, China and Japan are expected to fund the university.
The idea of the university was first mooted in the late 1990s but it was President A.P.J. Abdul Kalam's initiative in early 2006 that gave shape to the project, which is to come up at the ancient site of Buddhist learning.
The excavated site of the ancient university at Nalanda is protected as a place of national importance. A fifth century architectural marvel, the university was home to over 10,000 students and nearly 2,000 teachers.
After the Singapore meeting, three more are to be held in China, Japan and Bihar. Officials said the state government had begun acquiring the 500 acres of land needed for the university.
The proposed university will be fully residential, like ancient Nalanda. In the first phase, seven schools with 46 foreign faculty members and over 400 Indian academics will be established.
The university will have courses in science, philosophy and spiritualism along with other subjects. A renowned international scholar will be its chancellor.
Nalanda is the Sanskrit term for 'giver of knowledge'.
Nalanda University, which existed until 1197 AD, attracted students and scholars from Korea, Japan, China, Tibet, Indonesia, Persia and Turkey, besides being a pedestal of higher education in India.
Though it was devoted to Buddhist studies, it also trained students in subjects such as fine arts, medicine, mathematics, astronomy, politics and the art of war.