Pilgrims flock to India for Buddhist "dragon" celebration
AFP, July 20, 2007
Pilgrims from as far afield as Malaysia and Mexico have flocked to India's isolated region of Ladakh this week for celebrations to mark 800 years of the "dragon" sect of Tibetan Buddhism.
SHEY, India -- The events have included hours of chants and prayers around the 44-year-old Gyalwang Drukpa, the head of the Dragon lineage, plus a more contemporary song contest inspired by his motto, "Live to Love."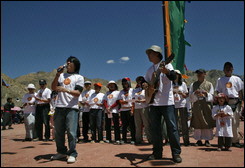 << Chow kam leong (R) and Lim Chenfew (L) from Malaysia perform outside the Naro Photang Puspahari temple in Shey, some 15 kilometers south of Leh
© AFP/File Manpreet Romana
"It was like love at first sight," said pilgrim Trent Williamson, who embraced the faith after meeting the Gyalwang Drukpa in Williamson's native Australia.
"Mentally I stopped killing. Even if there was a mosquito on me I didn't kill it," said the Australian, who took the Tibetan name Jigme Kunga Shonu or "Fearless Youth Loved by All."
Williamson, who works as a music producer in Sydney, won the song contest with a cheerful tune entitled: "In this world of great despair, the dragon man is here."
The Drukpa or 'dragon' sect was founded in the 13th century and is a part of the Kagyupa tradition, one of the four main schools of Tibetan Buddhism.
The Gelukpa line, headed by exiled Tibetan spiritual leader the Dalai Lama, established its presence in mountainous Ladakh first. But the Drukpa order gained favour under Ladakh's Namgyal royal dynasty in the 17th century.
Cristina Pandal, 61, who travelled to the scorching, high-altitude lunar landscape of Ladakh from Mexico City, said she had embraced Buddhism after tiring of the more organised Christian churches.
"Jesus had the same teachings but I don't believe much in the church and its rules and the way the teachings get manipulated -- there's too much guilt," said Pandal.
The Drukpa leader has about 10,000 foreign followers outside of South Asia, according to Drukpa Trust volunteer Lynne Chiang, who is Malaysian.
Many Malaysians made the journey to the Naro Photang Puspahari temple in Shey, 15 kilometres (9 miles) from Ladakh's main town of Leh, for this week's celebrations.
Among them was a man introduced Thursday as "a godfather of Asian pop" -- record producer Chow Kam Leong, who also took part in the song contest.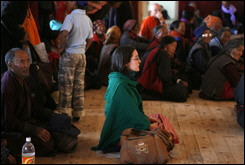 Foreign followers of spiritual leader of Drupka lineage Gyalwang Drukpa offer prayers in Naro Photang Puspahari temple in Shey, some 15 kilometers south of Leh >>
© AFP/File Manpreet Romana
But in spite of their evident reverence for the Gyalwang Drukpa, not all are completely open about their beliefs in their home countries.
Williamson said that he preferred not to tell too many in Australia -- outside of close friends -- that he follows a Buddhist master.
"Australians are very afraid of things that they don't know," he said. "They judge you. I'd rather not have the trouble."
Pandal said fellow Mexicans did find her Buddhist path strange but she didn't let it bother her.
"I respect everybody's choices in life," she shrugged.
"But I have found my way."