Exiled Tibetans condemn new Chinese law on Buddha reincarnation
ANI, Sept 3, 2007
Dharamshala, Himachal Pradesh (India) -- Exiled Tibetans have condemned a Chinese law that states all future incarnations of living Buddhas related to Tibetan Buddhism "must get government approval."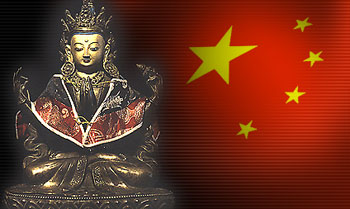 Religious leaders and monks in Dharamshala, the seat of the Tibetan spiritual leader, The Dalai Lama has said the Chinese law is aimed at further repressing Tibetan culture.
According to ancient practice, select Tibetan monks have carried out a search for the reincarnation of lamas, including the Dalai Lama.
With the new law taking effect on Saturday, the Chinese Government has also prevented any outside source from influencing the selection process.
Tsering Phuntsok, the Minister of Religion and Culture of the Tibetan Government-in-Exile, said his people reflected the new rules since it goes against their faith.
Phuntsok said the recognition of reincarnate Lamas could "neither be appointed from above, nor be elected by general populace, or be bestowed upon someone as titles or positions".
Phuntsok added there were religious rules to be followed and no dictates from the Chinese Government were going to stop them.
Reincarnate Lamas lead religious communities to oversee the training of monks, giving them enormous influence over religious life in Tibet.
"In every year's conference of monks, there have been discussions on how to become a good 'Lama'. There is a set of rules on how to be a good lama and those rules are being followed. Till the Lama does not finish his learning process, he has to be among the common Lamas," he said.
He derided the Chinese Government for politicising the religious beliefs of Tibetans.
"They have no shame, they have no fear. They are doing this only for political mileage," Phuntsok said.
The Chinese Government has always sought to govern Tibetan Buddhism, which forms the basis of Tibetan way of life.
Gedun Choekyi Nyima was named the reincarnation of the previous Panchen Lama by Tibetan's spiritual leader, the Dalai Lama on May 14, 1995.
However, Nyima disappeared in July 1995 and in 1996 the Chinese Governmentaid he had been put under Chinese protection on the request of his parents.
Beijing designated its own Panchem Lama, Gyaltsen Norbu, but few Tibetans recognize the child as legitimate.