Tibetan monks and nuns condemn China's prohibitive measures on "Living Buddhas"
By Phurbu Thinley, Phayul, September 21, 2007
Dharamsala, India -- Tibetan monasteries and Nunneries based in Dharamsala staged a reproving demonstration march from Tsuglag-Khang to lower Dharamsala condemning the so-called Order no. 5 of China's State Administration of Religious Affairs (SARA) on "Management Measures for the Reincarnation of 'Living Buddhas'" in Tibetan Buddhism.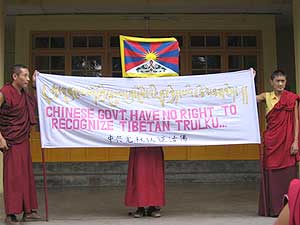 Hundreds of Tibetan monks and nuns joined by Tibetan people and supporters rallied down the street leading to lower Dharamsala displaying banners describing China's latest move to strangulate the ancient Tibetan Buddhist tradition as suppression of religious freedom.
One of the banners reads: "China says 'Religion is a Poison' – Why interfere now?"
"Atheist China turning Religious – Believe it or not" says another banner.
A joint statement released by "all the Tibetan Monasteries and Nunneries based in Dharamsala" stated "power to make decisions on any matter related to Tibetan Buddhism legitimately rests with the Tibetan people".
Today's protest march followed by candle light vigil later in the evening demanded China for immediate withdrawal of the repressive religious measures imposed on the Tibetan people.
Addressing the gathering at lower Dharamsala, Ven. Geshe T. Phelgye, member of exile Tibetan Parliament said, "It (the Order) is a new tool deployed by the Chinese Government to undermine Tibetan Buddhism, and to insult and oppress the Tibetan people".
China's SARA on July 18 this year issued the controversial document called Order No. 5 containing 14 articles making selection of Tibetan reincarnate lamas subject to approval by the Communist State Government of China.
The order forbidding naming of any reincarnate lamas, called "Living Buddhas" in Chinese [Tib: Trulku], without prior approval from Chinese Communist State was put into effect on September 1. The new regulations, bans naming of any reincarnate lama solely by traditional Tibetan Buddhist procedures.
On September 2, marking the 47th anniversary of the Tibetan Democracy Day; the heads of all the religious schools of Tibetan Buddhism; the monks, nuns, mantra holders and other lay followers of the respective schools and the Department of Religion and Culture of the Central Tibetan Administration collectively issued a statement repudiating the religious bylaw.
The joint official statement was issued by the Kalon (Minister) for Religion and Culture of the Tibetan Government-in-Exile.
However, according to media report, China on Thursday defended its record on religious freedom, saying all Chinese can worship as they choose with no restrictions, and blasted a U.S. government report that said Beijing continues to harshly persecute some believers.
Foreign Ministry spokeswoman Jiang Yu said a recent U.S. government report on religious freedom "flagrantly interfered in China's internal affairs" and "contained groundless accusations about China's religious and ethnic policies."
The U.S. State Department said last week in its annual report on religious freedom that China continued to repress Christians, Tibetan Buddhists, Muslim Uighurs and the Falun Gong spiritual group over the past year. It also criticized an apparent crackdown by authorities ahead of the 2008 Beijing Olympics.