Involve locals, monks for saving priceless Ladakh monasteries
Kashmir Watch News Service, Nov 23, 2007
JAMMU, Kashmir (India) -- Even as the World Monuments Fund (WMF), New York has listed the city of Leh, Ladakh in its top 100 most endangered sites in the world, the priceless rich heritage of Ladakh in the form of its monasteries needs sustained preservation and conservation efforts involving both local people and monks in the monasteries, a top tourism expert in Jammu and Kashmir said here today.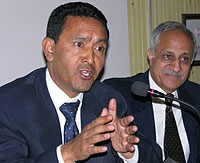 << Mr Rigzin Jora & Mr M Ashraf speaking at a lecture on Saving Ladakh Heritage in Jammu on Friday
Dotted with centuries-old Buddhist monasteries, murals, mud and clay stupas, Ladakh has over 35 Buddhist monasteries which attract a huge number of both domestic and international tourists. However, these monasteries which are its precious heritage are crumbling and need immediate attention.
Monasteries are crumbling in Ladakh and need lot of sincere efforts for its preservation but we, at the same time, cannot forget the fact that these monasteries are living temples where Lamas (monks or priests) live and meditate. So, it is every important to involve them for conservation efforts in the monasteries," said Mr. Mohammed Ashraf, former Director General, Tourism, Jammu and Kashmir while speaking at a lecture on "Saving Ladakh heritage-Crumbling Monasteries", organized in connection with the World Heritage Week which is being celebrated from 19th November to 25 th November 2007.
The lecture was organized by The Vijay Suri Foundation, J&K, in collaboration with the Friends of Ladakh Society, Centre for History and Culture of Jammu and Ladakh region, University of Jammu.
Mr. Nawang Rigzin Jora, the Power minister J&K government, was the chief guest at the function. Professor Amitabh Mattoo, vice chancellor, University of Jammu presided over the function.
Focusing on the need to involve local people, monks and artisans in the restoration attempts, Mr. Ashraf who worked extensively in Ladakh as the DG Tourism and is an authority on tourism in Jammu and Kashmir, recalled how they had worked in Ladakh over the issue garnering support of locals in the effort. He recalled how the tourism department restored the collapsed wall in the courtyard of Ladakh's richest Gompa Hemis when in 1992; it had suffered a major damage. Without local support, he said, it is very difficult to keep the heritage intact.
Narrating his experiences about preservation in Ladakh, he said he and his team faced a lot of difficulties at times when the monks even opposed their documentation of monasteries in the form of pictures.
"They did not allow us to take pictures of the monasteries but we cannot forget that these are not monuments like Taj Mahal or Red Fort but are living temples which are even thousand year old," said Mr Ashraf. He also said that financial support also mattered a lot as far as restoration efforts or preservation efforts were concerend.
Stressing the need to include local communities in preservation of monasteries, Mr. Nawang Rigzin Jora, minister of power, Jammu and Kashmir government, said that it was very important as Ladakhis do not have the understanding about the principles of conservation.
"The traditional practice of conservation has fallen down and the monasteries' management is coming up with new structures than preserving the previous ones, Then there are conflicts and interests of restoration agencies," said Mr. Jora adding it was very important to strike a balance between the two so that the age-old heritage could be preserved.
He said though Archeological Survey of India and INTACH have pitched in as far as conservation of monasteries and other monuments in Ladakh are concerned, yet these however haven't yields good results.
"ASI has done shoddy work in Leh Palace which is overlooking the Leh market and is with them for the past 20 years or so," he added.
Mr. Sati Sahni, eminent journalist and vice-president, Friends of Ladakh Society, while speaking at the occasion, said that Ladakh monasteries were in a bad shape between 1947- 1973. He said there was hardly any effort to take care of monasteries or take up the repairs or renovation work but it changed when Ladakh was opened to foreign tourists in 1974.
Suggesting some measures for saving priceless heritage including documentation of all monasteries, Mr. Sati Sahni said we should have a record of all the monasteries as to what do they have in their original form and shape.
"All important monasteries should depute one monk/lama from their monastery to National Museum so that they are trained in some kind of conservation work," said Mr. Sahni adding with this, they can have a kind of nucleus in each monastery. Besides, some Ladakhi should be trained in proper conservation and should be posted in Ladakh.