Priest accused of chopping Bodhi tree forced to resign
Sify News, December 16, 2007
Patna, India -- Authorities have forced the top priest of Bodh Gaya Buddhist temple to resign and suspended a top official after they were found involved in chopping off a branch from the Buddha's 'enlightenment tree', apparently to sell it.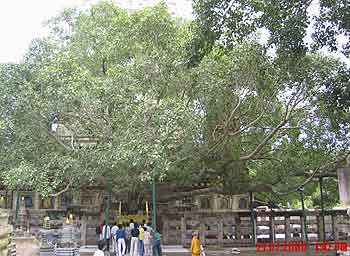 << The Mahabodhi Tree. Photo taken on July 21, 2006
The action was taken after a court issued summons Saturday to the temple officials for lopping off a branch of the 'Bodhi' tree, which is believed to be the one under which the Buddha attained enlightenment 2,550 years ago. Action is also likely against another official whose involvement is alleged in the case.
Gaya District Magistrate Jitendra Srivastava, who is the ex-officio chairman of the Bodh Gaya Temple Management Committee (BTMC), issued orders for the suspension of Public Relations Officer Bhajju Yadav.
"Temple chief priest Bhahadant Bodhipal's resignation has been accepted," says Srivatsava. Action against ex-officio secretary of BMTC Kalicharan Yadav is likely to be initiated soon.
An official report, probing the incident, indicted all the three officials of the committee earlier this month. The report was submitted to a court December 7.
A Buddhist monk, Arup Brahmachari, had filed a criminal complaint against officials of the BMTC in June this year alleging that they had ordered a branch of the tree to be cut off.
Brahamchari provided evidence, including eight photographs, in support of his complaint, which was supported by an affidavit by gardener Deepak Malakar, who looked after the revered tree.
In his affidavit, Malakar claimed that he cut off a branch of the tree July 10, 2006, at the instance of Bodhipal and carried it to his residence.
Monks have demanded the arrest of the three officials.
Bhadant Anand, president of the Akhil Bharatiya Bhikkhu Mahasangh (All India Monks Association), warned that they would resort to protests if the three were not arrested.
"It is now official that a branch of the Bodhi tree was chopped off for earning dollars, and the three top officials found guilty should be put behind the bars," Anand said.
An official of the Mahabodhi temple complex said the present Bodhi tree is the sixth regeneration of the original banyan tree.
Thousands of pilgrims visit the complex, which the Unesco has declared a world heritage site. It marks the spot where the faithful believe the Buddha, whose given name was Siddhartha, attained enlightenment after intense meditation.