Buddhist pilgrim's may get tax-free lodging in India
by Rajat Guha & Rajeev Jayaswal, TNN, Jan 18, 2008
NEW DELHI, India -- The Budget may have a special package for pilgrims. The finance ministry has in-principle agreed to extend a five-year tax holiday to budget hotels on the Buddhist circuit.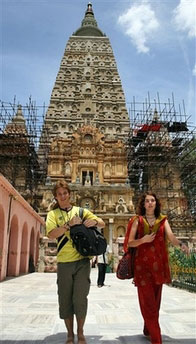 Prime Minister's infrastructure committee has, however, suggested to the finmin broadening its scope to include all heritage and pilgrim destinations. In Budget 2007, the finance minister had announced a five-year tax holiday for budget hotels in the National Capital Region (NCR) to create infrastructure for Commonwealth Games, 2010.
Tata-owned Ginger Hotels, Clarks Inn, Choice Group, Lemon Tree and Bharat Hotels could be some of the major beneficiaries of the proposed move. Besides corporates, the tax incentive would encourage local entrepreneurs to invest in hotel projects.
There are 400 million domestic tourists, majority of whom visit pilgrim centres. If accepted, Buddhist destinations and pilgrim centres like Amravati, Ajanta and Ellora, Sanchi, Shrawasti, Sarnath, Bodhgaya, Nalanda, Rajgir, Haridwar, Mathura, Ajmer, Tirupati and Madurai would see addition of more rooms for budget tourists.
The average length of stay for a domestic traveller is estimated to be four days and only 20-25% use hotels. Most of them prefer to stay with friends and relatives due to affordability and room shortage. According to the tourism ministry, 230 million trips were undertaken by domestic tourists in the country in 2002, and 61 million were accounted for by urban residents and 169 million by rural inhabitants. The country desperately needs hotels as it faces a shortage of 1.5 lakh rooms.
The government is of the view that propping up budget hotel infrastructure would also serve as a major revenue grosser for states. The creation of better infrastructure in small towns and tourism destinations would attract foreign tourists too. According to an estimate, foreign arrivals increased 85.8% to 4.4 million in 2006, up from 2.4 million in 2002. Most of the visitors are attracted by the country's culture and heritage. India received over Rs 29,600 crore as foreign exchange revenues from tourism in 2006, registering a growth of 17.6% over 2005.
The move would also help to check rising room charges. According to a report by hospitality consultants HVS International, average room rates among three-star hotels has grown 22.4% from 2003-04 to 2005-06 at Rs 2,044 per night.
Tourism has been identified as an important sector for increasing the country's foreign exchange earnings. During 11th Plan, the government has provided budgetary support of Rs 5,156 crore for the sector.