Advert showing Indian President, Chief Minister 'above' Buddha irks monks
IANS, Feb 16, 2008
Patna, India -- Hundreds of Buddhist monks in Bodh Gaya are protesting a Bihar government advertisement showing photographs of President Pratibha Patil and Chief Minister Nitish Kumar placed above a picture of Gautam Buddha.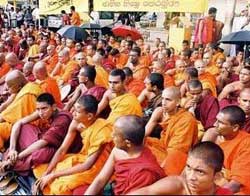 The monks on Saturday staged a protest in Bodh Gaya, about 110 km from state capital Patna, where Gautam Buddha attained his enlightenment. They also demanded action against officials responsible for "hurting" their sentiments.
"The government advertisement placed Lord Buddha's picture at the bottom while those of the president and the chief minister at the top. It is an insult to Buddhism in the land of the Buddha," Bhadante Anand, president of the All India Mahabodhi Mahavihar Liberation Action Committee, said.
Anand said the government had placed an advertisement in newspapers last month with pictures of dancing girls above the picture of the Buddha.
The monks clad in deep saffron robes protested for hours before President Patil visited the Mahabodhi Temple at Bodh Gaya on Friday afternoon.
It was under the Bodhi tree behind the temple that the Buddha attained enlightenment about 2,550 years ago.
The Mahabodhi Temple was declared a World Heritage Site in 2002 by the Unesco.
The President on Friday began her two-day visit to Bihar. It is her first visit to the state since assuming office in July 2007. She also visited on Friday the historic Nalanda University.
She inaugurated a cultural function, Tarang, at the Magadh University in Bodh Gaya on Friday before returning to Patna in the evening.