Uttar Pradesh to boast of world's tallest Buddha statue
IANS, March 25, 2008
Lucknow, India -- Decks are being cleared for the installation of the world's tallest Buddha statue in Kushinagar town of eastern Uttar Pradesh.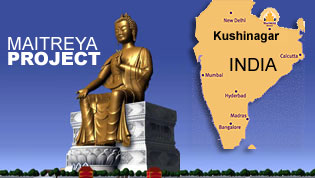 Uttar Pradesh Chief Minister Mayawati was understood to have directed officials to speed up the acquisition and transfer of 600 acres of land required for the Rs 10 billion project to be funded and undertaken by the global Maitryi Group. Provision of land is UP government's share in the project.
The project involves installation of a 152-metre-tall bronze statue of Lord Buddha along with a giant meditation centre, an international university, a state-of-art world-class hospital and a museum. The project also envisages an entertainment complex in the neighbourhood that would include an amusement park and a five-star hotel.
UP Chief Secretary Prashant Kumar Misra presided over a high level meeting of state officials, in which representatives from Maitryi were present here Monday.
A presentation on the project was made. "Since then, it had been hanging fire, so we decided to revive it after Maitryi officials approached us.
Of the 600 acres required for the project, we need to acquire only about 300 acres while the rest is government land. The government had already started the acquisition process.
The whole project would not involve any major displacement of people and not more than 70-80 farmers would be involved. We have worked out a handsome rehabilitation package for the farmers who would get displaced on account of the project," Misra told IANS.
Significantly, the project was initiated during the previous tenure of Chief Minister Mayawati in 2003, after which it was put on the backburner during the Mulayam Singh Yadav regime.