Developing Nalanda to improve Sino-India ties
IANS, April 23, 2008
Patna, India -- The development of Nalanda, the ancient seat of learning in Bihar, will help improve ties between India and China, an expert has said. "Nalanda's proper development will help improve India-China ties due to its importance in both countries," said R. Pant, vice chancellor of Nav Nalanda Mahavihar.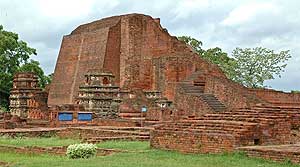 Pant, who was here in connection with a talk Tuesday, said Nalanda still attracts attention of China and other southeast Asian countries for its historical and cultural legacy. "India had initiated the move to develop Nalanda. China then showed keen interest in this project," said Pant.
Nalanda is about 90 km from Patna.
Pant said China was taking keen interest in buddhist sites and there is a place named 'Rajgir' in China's Lingsa province where a 200 ft statue of Lord Buddha has been installed.
He said Nepura village in Silao block was also being developed for its specialisation in silk weaving as silk bags were quite popular among the Buddhist monks in China and other countries.
Nalanda pottery, which was also popular among the Buddhist tourists, would be given due attention.
A cultural village and the Nalanda International University are being set up with the help of foreign countries including China and Japan.
According to Pant, a hall built last year in memory of 7th century Chinese traveller Xuan Zang (Huen-Tsang) in Nalanda, inaugurated by Chinese foreign minister Li Zhaoxing, is a sign of growing India-China friendship. The hall was built in memory of Xuan Zang's visit to India.
Xuan Zang is famous for his 17-year-long trip to India, during which he studied with many noted Buddhist masters, especially at Nalanda. He was a student at Nalanda for five years and taught for a year.
While returning to China, he carried 657 Sanskrit manuscripts with him and translated them in Chinese, laying a strong foundation of Buddhism not only in China, but also in Korea and Japan.