Cash registers ring as Buddhists pack bags for India
by Ravi Teja Sharma, TNN, May 8, 2008
NEW DELHI, India -- Thousands of years after the teachings of Buddha spread across the world, his followers are hot-footing it back to India. And cashing in on the opportunity is a bunch of travel business entrepreneurs, serenading the visitors to the land of the Buddha.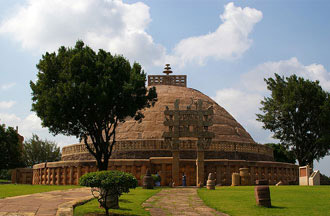 << The grand stupa in Sanchi
For years, the Buddhist travel segment has been lagging, but now, things are looking up, say travel agents specialising in the segment. According to estimates, Buddhist travel accounted for about 10-12% of the total 4.63 million tourists who visited India in 2006-07. As infrastructure improves in the Buddhist circuit, the interest of pilgrims from Japan, Thailand, Taiwan, Korea and China is growing. There are enquiries for the circuit from the US too.
The organised part of this segment is still small, with the total number of package tours being sold not more than 25,000 a year. Most travellers from neighbouring countries like Sri Lanka and Bhutan come on their own and spend little. A handful of travel companies sells packaged Buddhist tours in the international market.
Lajpat Rai of Lotus Trans Travels set up his business on a monk's suggestion. "I was staying with him in a temple in Naha, Okinawa, Japan. He suggested setting up a business to help the Japanese get better access to the Buddhist circuit in India. In fact, my first Buddhist group from Japan was from this temple," says Mr Rai.
A new company Trail Blazers Tours has also ventured into the Buddhist travel business. They have clients from Korea, China and have even got enquiries from the US. "Recently, we opened an office in Korea; and we have already doubled our business since we started a year back," says Trail Blazers director Homa Mistry. In the past, pilgrims' progress was rather tough with inadequate infrastructure in and around the circuit, across Uttar Pradesh and Bihar. However, over the last few years, roads have improved. An international airport at Gaya has helped too.
Sensing the opportunity that this segment provides, agents like Lajpat Rai and Naresh Sharma, MD of Inpac Travels, have set up hotels in and around the Buddhist trail. Mr Rai's company has hotels in Bodhgaya, Kushinagar, Sravasti and Delhi, and is building two more at Gorakhpur and Sanchi by 2010. For its four hotels, Inpac has invested Rs 55 crore. Soon, they will add another small hotel at Sankasya, investing an additional Rs 5 crore. "Adding hotels to our portfolio has helped us grow our travel business," says Sharma.
Yet, better roads are not complemented by AC buses. The airport might have been built, but there is no direct flight from Delhi to Gaya. (However, there are flights from Bangkok to Gaya and one is expected from Osaka as well). Besides, there are no wayside facilities. And to top it all, there are no leisure or shopping opportunities either for the tourists.
The Japan Bank for International Cooperation pitched in with a Rs 395-crore loan last year, for developing infrastructure in Buddhist sites in Uttar Pradesh in an exercise estimated to cost Rs 680 crore. Now, Mr Rai is planning 12 direct chartered flights from Japan next season. And, Mr Sharma is optimistic that they would clock at least 40% growth.