Dalai Lama discharged from hospital
AFP, Sept 1, 2008
MUMBAI, India -- The Dalai Lama was discharged from a Mumbai hospital on Monday, four days after the Tibetan spiritual leader was admitted with stomach pain, but he still needs plenty of rest, an aide said.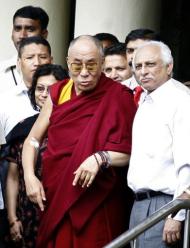 << The Dalai Lama (centre) leaves Mumbai's Leelavati hospital, four days after he was admitted with stomach pain.
The 73-year-old Nobel peace laureate smiled and waved as he emerged from Mumbai's private Lilavati Hospital, an AFP photographer said. He shook hands with hospital staff before leaving in a bullet-proof car.
The Dalai Lama's spokesman, Tenzin Takhla, has said he has cancelled all engagements for three weeks and would now spend several days resting in Mumbai.
A hospital spokesman declined to comment on his state of health, but Samdhong Rinpoche, prime minister of the Tibetan government-in-exile, said the Dalai Lama was "very fine."
"There is nothing to be worried about. The doctors have advised that he take some more rest," Rinpoche told AFP from the northern Indian hill town of Dharamshala, where the government-in-exile is based.
The Dalai Lama underwent a series of tests in Mumbai after admission to hospital on Thursday following complaints of "abdominal discomfort."
A Tibetan official at the Dalai Lama's home said last week the Buddhist monk had suffered a bout of diarrhoea after which "he felt very weak."
The health scare prompted special Buddhist prayer meetings in Dharamshala, with dozens of monks and nuns gathering at the main temple to pray for his well-being.
In recent weeks, the Dalai Lama had a hectic itinerary as he campaigned for improved human rights in Tibet while China hosted the Olympic Games.
During the Games, he travelled to France for a 12-day visit during which he accused China of ongoing repression of the Tibetan people.
He met French Foreign Minister Bernard Kouchner and first lady Carla Bruni-Sarkozy -- but not President Nicolas Sarkozy.
On Saturday, he joined Tibetans in a 12-hour fast to draw attention to the human rights situation in their homeland and pray for world peace.
"The Dalai Lama had a lot of international teaching commitments this month," Rinpoche said.
"We have said his appointments have been cancelled for three weeks... so by the middle of September it should be clear when he will resume his other commitments."
In 2002 the leader of the Tibetan Buddhists was admitted to hospital after falling ill with stomach pains. He was later diagnosed with an infection.
The Tibetan monk fled into exile in India in 1959 following a failed uprising in Tibet against Chinese rule.
The Dalai Lama supports a "middle path" policy which espouses "meaningful autonomy" for Tibet, rather than full independence as many younger, more radical activists are demanding.
Still, China has vilified him as the "mastermind" of what it called a drive to sabotage the Olympics and destabilise the country.
Violent protests against Beijing's rule broke out across Tibet in March, sparking a heavy Chinese crackdown that drew global condemnation.