Dalai Lama well, but taking it easy, aide says
Reuters, Sept 24, 2008
NEW DELHI, India -- The Dalai Lama has recovered from abdominal pains that sent him to hospital last month but is cutting down on travel, an aide said on Wednesday, even as U.S. President George W. Bush called to inquire about his health.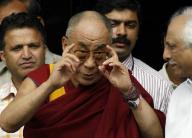 The 73-year-old exiled Tibetan spiritual leader was cheerful and on Thursday was due to make his first public appearance since leaving hospital, his aide Chhime Chhoekyapa told Reuters.
"He is in good health and will start giving public teachings from tomorrow to a group of students from Singapore for three days," Chhoekyapa said from the northern hill town of Dharamsala, the headquarters of the Tibetan government-in-exile.
"He has been asked to start his normal work, but doctors said he must cut down on frequent travel and take more rest for a while," Chhoekyapa said by telephone.
The Dalai Lama spent a few minutes speaking to Bush, who called on Tuesday to ask about his health.
"They exchanged pleasantries and His Holiness regretted not meeting President Bush during a scheduled visit to Washington, DC, which was cancelled due to his illness," the aide said.
"He promised to meet him during his next visit to the U.S. next year."
The Dalai Lama was admitted to a hospital in India's financial capital of Mumbai with "abdominal discomfort" last month. He was released a few days later after doctors said there was no cause for concern.
A smiling Dalai Lama left the hospital for Dharamsala, where he spent most of his time taking rest and discussing the situation in Tibet, his aide said.
The Dalai Lama has since called a special meeting of Tibetan exiles in November or December to discuss this year's political unrest in Tibet and the future of the Tibetan movement.
For the next few days, the Nobel Peace Prize winner will concentrate on religious discourse.
"After the group from Singapore, His Holiness will be busy giving teachings to a Chinese community from Taiwan," Chhoekyapa added.