Tibet exile meet could see tougher stance on China
By Alistair Scrutton, reuters, Nov 5, 2008
NEW DELHI, India -- Hundreds of leading Tibetan exiles will gather mid-November in Dharamsala for a watershed meeting that could forge a tougher stance on China and pose a political challenge for their spiritual leader, the Dalai Lama.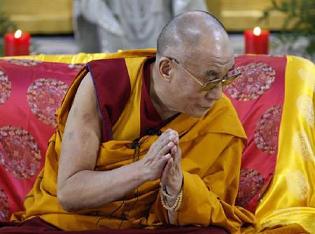 Many exiles are frustrated at the lack of progress with China, despite rounds of talks -- the latest started on Tuesday -- between the two sides. Anger has been heightened by March's crackdown on riots against Chinese rule in Tibet.
The Dalai Lama himself called for the meeting and it will act as a sounding board for many exiles who want independence for Tibet rather than their revered leader's talk of autonomy within China, which has occupied the remote mountain region since 1950.
The 73-year-old Buddhist leader hinted this month that his "middle way" for Tibet had failed, and speculation has grown that he wants to step back from day-to-day political leadership.
"For years we have pursued a middle way and his Holiness himself has said it has not produced results," said Karma Chophel, speaker of the Tibetan parliament-in-exile, which is based in Dharamsala.
"Anything can be said at this meeting."
The Dalai Lama fled into exile in 1959 after an abortive uprising against Chinese rule. He has since lived in India, a beacon for an estimated 150,000 Tibetan exiles around the world.
But there have been reports that the Dalai Lama may be slowly retiring after he was hospitalised in August with abdominal discomfort. He underwent surgery last month to remove gallstones.
He is not attending the Nov 17-22 meeting, perhaps a sign that he wants to leave this debate to a newer generation.
"Things (are) not going well ... I have to accept failure," the Dalai Lama said on a visit to Tokyo this week. "I'm looking forward to complete retirement."
It was all a sign, some Tibetan activists say, that he is laying the ground for a possible, democratic, successor.
"He's laying the foundation so the Tibetan movement will continue forward democratically," said Dhondup Dorjee, vice-president of the Tibetan Youth Congress, a group that espouses independence.
MACHIAVELLIAN TACTICS?
Some analysts see more Machiavellian tactics from the Dalai Lama -- conveying to the Chinese that if they don't compromise, more radical elements will surface against Chinese rule.
"The Dalai Lama is under increasing pressure, his task of keeping various factions under control has been getting harder," said Alka Acharya, who teaches East Asian studies at New Delhi's Jawaharlal Nehru University.
"On the one hand the meeting is about trying to appease his followers. On the other, it's about conveying a message to the Chinese that he may be the best possible option for them."
This indeed may be how China sees that meeting.
"I have heard that there are some Chinese officials who see this as an attempt to put pressure on China by indicating the possibility of moving to a harder line," Robbie Barnett, a Tibet expert, at Columbia University in New York, said by telephone.
A commentary in the official Xinhua News Agency said the "long-scheming Dalai has again tossed out the topic of his so-called 'retirement'."
Asked whether the Dalai Lama was stepping back from politics, his secretary, Chhime Chhoekyapa, said "It's already happening", pointing to posts like prime minister in the government-in-exile. as evidence that the Dalai Lama has already delegated many political functions.
"He will always guide the Tibetans, but he may not be the political leader," Chhoekyapa said.
The Dharamsala meeting does not have powers to change policy, but it can propose resolutions to the parliament-in-exile.
And there are still strong supporters within the Tibetan community of the "middle way" as the only realistic option.
"It's a brainstorming session," said Chhoekyapa. "I don't think there will be a decision in the next few months ... Nobody is in a rush."
But one auspicious date -- March 10 -- is approaching. Every year the Dalai Lama makes his equivalent of a "State of the Union" address on that date to mark the anniversary of the uprising. Next year is the 50th anniversary, a possible time for important announcements from the Dalai Lama.
But even critics believe the Dalai Lama's influence will continue. For many of Tibet's inhabitants unhappy with Chinese rule, the Dalai Lama is revered.
"He won't fade away." said Acharya. "The spiritual is the strongest element of his leadership."
(Additional reporting by Benjamin Kang Lim in Beijing)