Tibetan exiles split on new China policy
Associated Press, Nov 18, 2008
Dharmsala, India -- Tibetan Buddhist monks light incense sticks in front of a portrait of the Dalai Lama to be placed at the Tibetan Children's Village School in Dharmsala, India, Monday, Nov. 17, 2008.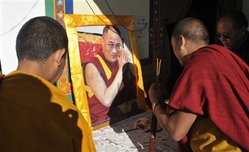 << Several hundred Tibetan exile leaders gathered Monday in northern India for a landmark meeting to discuss the direction of the movement that has struggled for decades to win autonomy from China. (AP Photo/Ashwini Bhatia)
Associated Press
Tibetan exile leaders opened weeklong discussions yesterday over the direction of their struggle with China, after the Dalai Lama expressed frustration over years of fruitless talks with Beijing.
The meeting in northern India, called by the Dalai Lama, follows the exiled Buddhist leader's comments bemoaning the lack of any progress by his envoys in talks with the Chinese government.
Samdhong Rinpoche, prime minister of the self-proclaimed Tibetan government-in-exile, called for an "open and frank discussion" and new ideas. Much of the debate is expected to boil down to two main choices: whether to continue pushing for Tibetan autonomy, a path called the "middle way" which the Dalai Lama has promoted for two decades; or beginning a long-shot independence movement.
Within the two camps, there are a range of possibilities, with various factions urging more protests, angrier protests, more pressure on Western nations and even, in a very small group, a push for sabotage of China's infrastructure.
Rinpoche said in an opening speech that the meeting may not necessarily lead to a new approach and that any new path needs to have "the mandate of the people."