Ministerís tracing of Ambedkarís Hindu roots stirs up a hornetís nest
Express News Service, Dec 7, 2008
Vadodara, India -- The State Minister for Social Justice and Empowerment, Fakir Vaghela, who is also the managing trustee of Dalit Adhikar Sangh, on Saturday, hailed B R Ambedkar as a "Hindu" leader who opted to follow Buddhism.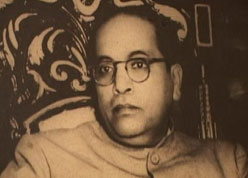 << STIRRING PRESENCE: Fifty years on, Dr Ambedkar continues to influence the course of Indian politics.
He said Buddhism has Hindutva as its foundation instead of Islam or Christianity. But his speech on Ambedkar Nirvana Din (death anniversary), which was held at Sayaji Baug in Vadodara, had him facing the wrath of Sankalp Bhumi Trust and Dalit Adhikar Manch. They made him stop his speech midway and started arguing with him.
It all happened late on Saturday evening at Sayaji Baug where the Vadodara Municipal Corporation has developed Sankalp Bhumi—the spot in Sayaji Baug where Ambedkar used to spend a lot of time while he was working for the Gaekwad-ruled Baroda state.
The minister reportedly made statements in praise of the BJP government; but when he started depicting Ambedkar as a Hindu leader, a section of the audience objected to it and forced the minister to stop his speech. A heated exchange of words ensued between the minister and those taking objection.
"There were some people in the function who did not like to hear what the BJP Government has done; they also had limited knowledge about Baba Saheb so, their anger was justified. But the fact remains that Baba Saheb hadoffered his resignation for the Hindu Code Bill, which was to empower women and ensure their property rights," Vaghela told Newsline over telephone.
It was P R Parmar, the retired assistant commissioner of Vadodara police (D-Division) associated with Sankalp Bhumi Trust, who objected to Vaghela's speech.
He said: "In his speech, there was no mention of Sankalp Bhumi, which is the place for Ambedkar's reincarnation. It was here that Ambedkar sat for hours while waiting for a train to Mumbai and realised that his role was to uplift the Dalits. This made him adopt Buddhism. Instead of talking about that, he (Vaghela) spoke about the government's achievements. No one present was interested in all that."
Apparently, people were furious about the minister's depiction of Ambedkar as a Hindu leader.
When questioned about the same, Vaghela said, "Ambedkar did not adopt Islam or Christianity but Buddhism; and one cannot deny the fact that Hinduism is the foundation of Buddhism."
The programme was organised to pay tribute to Ambedkar on his death anniversary. Among other invitees were Mayor Balkrishna Shukla, Sayajigunj MLA Jitendra Sukhadia, former VMC Mayor Sunil Solanki and other BJP members.