Can't interfere in Lankan affairs: Dalai Lama
Express News Service, Jan 22, 2009
CHENNAI, India -- Several Nobel laureates are soon expected to meet and engage themselves in discussions for negotiating with Sri Lanka and find a permanent solution to the ethnic problem, Tibetan spiritual leader Dalai Lama disclosed this here on Wednesday.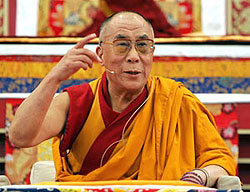 After delivering a talk on `peace and happiness' at the University of Madras, Dalai Lama told reporters that he was unable to give any details of the proposed meeting of Nobel laureates at present and could only pray and hope for an early solution to the problem in the island nation.
The Tibetan leader said he did not want to interfere in the internal affairs of Sri Lanka but expressed his anguish at the thought of so much violence perpetrated in the country.
He initially expressed his inability to comment on the Sri lankan issue as he said he had never visited the country. ``For very obvious reasons, my trip to Sri Lanka was postponed indefinitely in the 1950s. Though I am a Buddhist leader, I am not allowed to enter countries like Sri Lanka and Burma, where there is a large number of Buddhist believers,'' he said laughing at the irony.
He added that conflicts such as those in Sri Lanka was often not about religion as much as it was about politics and sometimes economy. On pressing further, he declined to comment and said he would do so after discussing the situation with the India's External Affairs Secretary, who had visited Sri Lanka last week.
On the Indo-China border issue he said that China should have a realistic approach to the border issues and said that history or past events, including past agreements, could not be changed according to their version or suit their political necessities.
On the dispute between India and China over Arunachal Pradesh, he said that a Tripartite convention in Shimla in 1914, involving representatives from China, British-India and Tibet had decided that the state belonged to India. He took a dig at the ideology of the Chinese Government when he noted that the country was following a kind of communism that represented and supported the middle and the moneyed class while ignoring the working class.
But any kind of decision taken or solution worked out without trust and under duress would not last long and would be filled with resentment. Any solution should be arrived after looking at the holistic picture and with awareness of history, as was happening with the increasing number of supporters to the Tibetan cause within China.
He said over 300 articles written by Chinese scholars in support to the Tibetan cause or critical of the Chinese Government's stand were a sign of hope for the future, and added that the younger generation of Tibetans were more resilient and would see Tibet's autonomy soon.
After delivering the lecture,replying to questions from the students, he allayed the fears expressed by Tibetan students on their feelings of insecurity after he announced his semi retirement.
He explained that the Government knew well how to rule better and once Tibet got its autonomy he would surrender all his privileges of being a religious leader and would leave the democratic process to take over.