Tibetans await Dalai Lama's address 50 years after uprising
Sindh Today, March 4, 2009
Dharamsala, India -- Hundreds of Tibetan Buddhist exiles will assemble in this north Indian hill town to hear their spiritual head, the Dalai Lama, deliver a crucial address March 10, the 50th anniversary of the failed Tibetan uprising.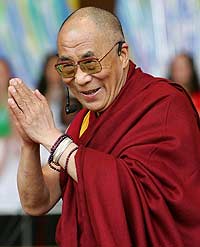 << The Dalai Lama
All the 43 members of the Tibetan parliament in exile and nearly 30 exiled Tibetan leaders from across the globe will attend the function in this Himachal Pradesh town.
"The address of the Dalai Lama has great significance as the situation has been tense all over Tibet since last year's unrest," Sonam N. Dagpo, secretary of the international affairs of the government-in-exile, told IANS.
Every year, Tibetan exiles worldwide remember the day when the Chinese launched a crackdown to suppress an uprising in Tibet. Last year bloody riots broke out in Lhasa following peaceful protests marking the uprising.
"This time the anger of the Tibetans (both inside and outside Tibet) is more intense as China has declared a provocative new holiday in Tibet," said Tsewang Rigzin, head of the pro-independence Tibetan Youth Congress.
The holiday March 28, to be called Serfs Emancipation Day, will mark the 50th anniversary of the failed Dalai Lama-led rebellion.
"On March 28, 1959 Tibetan serfs and slaves, who accounted for more than 90 percent of the region's population, were freed after the central government foiled an armed rebellion staged by the Dalai Lama and his supporters," Xinhua news agency has said quoting Chinese officials.
Dagpo said the situation in Tibet is quite tense as the anniversary of the Tibetan uprising approaches.
"The situation (in Tibet) is very, very tense. The Chinese have stepped up security and most of the areas have been declared off limits to foreigners, including media, ahead of the politically sensitive anniversary of uprising," he said.
The usually merry atmosphere during Losar festival - Tibetan New Year - has been largely subdued this year since the Dalai Lama said "last year in Tibet we witnessed hundreds of Tibetans losing their lives and several thousands facing detention… the occasion of this New Year is certainly not a period when we can have the usual celebrations and gaiety".
Fifty years ago, the Dalai Lama, whom Beijing brands a separatist, fled into exile and established his government-in-exile at McLeodganj, near here.
The elderly monk is the ultimate spiritual and political leader for millions of Tibetans. He says he does not seek independence, only autonomy, for his people, because he fears their cultural and religious traditions are being slowly crushed.
He has called the situation in his homeland "very tense" amid smouldering anger due to a continuing heavy-handed Chinese crackdown following last year's unrest.
"At any moment there can be an outburst of violence," the 73-year-old Nobel laureate said during his visit to Germany last month.
Nearly six million Tibetans live in the Tibet region of China while over 150,000 live in other countries, most of them in India.