Healthy Dalai Lama 'won't seek rebirth'
The Age, March 9, 2009
Dharmsala, India -- The Tibetan spiritual leader, the Dalai Lama, in an interview with Taiwan television aired on Sunday, said he is in excellent health - but won't seek reincarnation.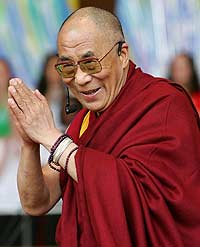 In an interview with Taiwan's Formosa TV, which was conducted in India to mark the 50th anniversary of China's occupation of Tibet, the Dalai Lama said it would be up to the Tibetan people to decide if there should be a reincarnation after his death.
Tibetan Buddhists believe the Dalai Lama to be the current incarnation of their supreme Buddhist leader, whose holiness has exempted him from the cycle of birth and death, and can instead be reincarnated of his own free will.
"In the early or mid-1960s, my body suddenly turned yellow because I suffered from hepatitis. And last October, I was hospitalised in Delhi to have a gall bladder removed," he said in English.
"So my body is not complete because one organ is missing, but my physical condition is very good. My body is something like age 60 although I am nearly 74," he said with a chuckle.
When asked about his successor, the Dalai Lama said the Tibetan government-in-exile introduced democratic reform in 2001, so the parliament is elected every five years and he was semi-retired.
"As early as 1969, I announced that it was for the majority of the Tibetan people to decide if there should be the reincarnation of the Dalai Lama," he said. "So whether it should be preserved or ceased, it is their responsibility, not mine."
Following a failed uprising against Chinese troops in 1959, the Dalai Lama fled to India to set up his government-in-exile in Dharamsala, north India.
Since the 1980s, the Dalai Lama has renounced his demand for Tibetan independence, and has asked China instead to grant true autonomy to Tibet and its neighbouring regions, or Greater Tibet, to preserve Tibet's culture, religion and ecology.
In the interview with FTV, the Dalai Lama denied he is seeking Tibet's independence, but went on to say: "We have a unique language and a unique script, so asking to preserve it is our basic right."
In the interview, the Dalai Lama expressed admiration for Taiwan's democracy and its separation from China.
"Taiwan and China have similarities and differences. Some Chinese officials say that Tibet has been liberated (by China) and Taiwan has not been liberated yet," he said, giving one example of the two sides' differences.
"Taiwan has achieved 100 per cent democracy. Some people say that democracy is not suitable for Asia, but your example shows that it can be applied successfully in Asia," he said.
The Dalai Lama visited Taiwan in 1997 and 2001 to lecture on Buddhism. He expressed the desire to visit Taiwan again, but President Ma Ying-jeou said the time was not appropriate, apparently due to the improving ties between Taipei and Beijing.
In the interview, the Dalai Lama said many Taiwanese disciples had invited him to visit again and he was eager to do so but he was also aware of Taiwan's stance and did not want to create inconvenience for the Taiwan government.