Oracle Festival begins in Leh
New Kerala, Feb 21, 2005
Stok, Ladakh (India) -- The fortnight-long traditional festival of Stok Guen Tai-Chen began in an ancient village of remote northern Ladakh region on Sunday (February 20).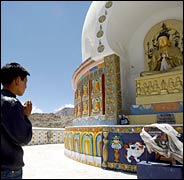 Thousands of locals along with foreign and domestic tourists witnessed the annual extravaganza also known as the Oracle Festival held in the first month of the Tibetan calendar at Stok, 20 kms from main city Leh.
The festival showcases the distinct Ladakhi folk culture. Though Ladakh is part of Jammu and Kashmir State, the lifestyle and culture of the people are different. Two oracles made a public appearance during the festival. The lamas, the Buddhist monks, train the oracles to receive holy spirits. People of the region repose great faith in the predictions made by the oracles.
Urgen Tsering, a local said: "This festival was earlier celebrated at the royal family palace of Stok and during the festival the monks of this monastery performed special prayers for the good health of the royal family. The good oracles also predict good or bad year ahead and their forecast are respected and deeply affect the Ladakhi society. These days more and more people come to see the festival compared to the earlier times."
Buddhist mask dances in the ramparts of the monasteries amidst the backdrop of the barren mountains are a rage among the tourists.
Ladakhis' mesmerizing dances, tempered by religion, are known for their simplicity and direct expressions. Each dance begins with homage to the gods with a deliberately slow movement of feet. The rhythm slowly picks up in the second stage and reaches a feverish pitch towards the end.
The festival also offers tourists a unique opportunity to witness the culture of people who have lived for centuries on the cross- roads of high Asia, receiving and harmonising cultural and religious influences from various Central Asian societies.
Cultural festivals contribute 50 percent to promotion of tourism in the remote region. A record 27,000 tourists visited Leh till November last year, beating the previous year's record of 25,000 tourists. Leh is the ancient royal capital and currently the headquarters of the Ladakh region. Situated at a height of 11,500 feet, Leh offers a unique ambience for the festival against stark mountains.