His Holiness the Dalai Lama Consecrates Monastery in Dharamshala
Tibet Custom, , April 14 2009
Dharamshala, India -- His Holiness the Dalai Lama on Sunday emphasised the preservation and protection of Tibetan Buddhism and culture, while inaugurating a new Tibetan monastic institution near Norbulingka Tibetan Cultural Institute, located in the north Indian state of Himachal Pradesh.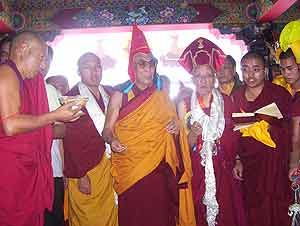 << His Holiness the Dalai Lama (center), His Eminence Gyalwa Karmapa (left), Garje Khamtrul Rinpoche (right) during the inaugural ceremony of Chime Gatsal Ling Monastery/ Photo:Tsering Dolma
His Holiness said the efforts made by the Tibetans in exile in protecting and preserving their cultural heritage has made the Tibetan community one of the most successful refugee in comparison to other communities in the world. The Tibetan people have tide over difficult circumstances to preserve their unique culture, language, identity and religion, His Holiness added.
His Holiness underlined the ethics of inculcating and bestowing love and compassion blended with wisdom.
His Holiness lauded the efforts of Khamtrul Rinpoche, the founder of Chime Gatsal Ling and all the sponsors from the USA, Canada, Japan, and Taiwan, who have contributed in building the monastery.
The senior officials of the Central Tibetan Administration, His Eminence the 17th Gyalwa Karmapa and sponsors are from countries namely, USA, Canada, Japan, and mostly from Taiwan attended the ceremony.
The ceremony began with the long life prayer offering to His Holiness the Dalai Lama by the gathering.
In his address, Kalon Tsering Phuntsok Religion, Kalon for the Department of Religion and Culture, said that the preservation of Tibet's Buddhist tradition is not only for the Tibetans, but it should be for the sake of all sentient beings.
The speaker of Tibetan Parliament, Penpa Tsering, praised Khamtrul Rinpoche for his efforts and contributions for the preservation and promotion of Tibetan religion and culture.