Himalayan communities better placed to preserve Buddhism: Dalai Lama
By Phurbu Thinley, Phayul, May 16, 2009
Dharamsala, India -- His Holiness the Dalai Lama on Saturday said Buddhist nuns from Himalayan regions had an important responsibility in preserving Tibetan Buddhist traditions, which he said was facing an uncertain future in its homeland.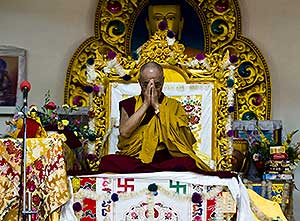 << His Holiness the Dalai Lama leads a prayer during a ceremony to consecrate new Assembly Hall of Jamyang Choling Institute in Gharoh, Dharamsala, India, Saturday, May 16, 2009 (Photo: Tenzin Choejor/OHHDL)
The highly evolved Tibetan Buddhist tradition is facing an uncertain future in Tibet and it is time for the Buddhist nuns from Himalayan regions to also play an important role in preserving this rich and unique spiritual tradition, the Dalai Lama said.
"So I always emphasize that people in the Himalayan regions now have a special responsibility to safeguard and preserve the ancient and rich Buddhist tradition that is deeply rooted in the Tibetan and Himalayan culture," His Holiness added.
The Tibetan spiritual leader was speaking at the Jamyang Choling Institute at Garoh near Dharamsala.
His Holiness was attending a religious ceremonial function to consecrate and inaugurate a new Assembly Hall of the institute for Buddhist nuns, the majority of whom are from Himalayan regions of India, Nepal and Bhutan.
Representatives from the Tibetan Government-in-Exile, including Kalon (Minister) Tsering Phuntsok, of Department of Religion and Culture, Minister for Department of Security Mr. Dhonchung Ngodup and Deputy Speaker of the Tibetan Parliament-in-exile Gyari Dolma, attended the function.
Commending the works of the nunnery in imparting spiritual education for Tibetan Buddhist nuns from the Himalayan regions, His Holiness urged the centre to continue to strive for excellence in spiritual practice.
The Dalai Lama went on to insist that the primary focus of Buddhist monasteries and nunneries should be on the quality of the education and spiritual practice, and not on the number of monks and nuns in the campus.
"Quality should be the priority. Number is not important," His Holiness said.
Jamyang Choling says one of its primary missions is to "train nuns as spiritual leaders, teachers, community workers and mentors for others in remote Himalayan regions and elsewhere when feasible."
Prior to attending the inaugural ceremony, His Holiness paid a quick visit to Thösamling Institute for International Buddhist Women and Nyingtop Ling, a home for the physically challenged Tibetan children, both located in Sidhpur near Dharmsala, which serves as the base for Tibet's Government in exile.