Buddhists frown on 'Madhuri' lake
The Telegraph, July 8, 2009
Do not let outsiders change local names, Gelukpas appeal to govt
Itanagar, India -- Madhuri Dixit, one of Bollywood's most famous faces till recently, has sparked a row in Arunachal Pradesh.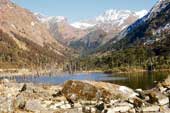 << Tsho-nga Tser Lake near Tawang. A Telegraph picture
Not the actress but her first name which is being increasingly used by non-locals to refer to a natural lake that became a much sought after tourist destination after the success of her movie Koyla in the nineties.
Local armymen also started calling the Tsho-nga Tser lake by Madhuri's name. But it has left the local Gelukpa sect, primarily followers of Tibetan Buddhism, fuming.
Once a forlorn but picturesque area around 500km from capital town Itanagar but only 40km from Tawang, the lake is snowbound for most of the year. Formed after the earthquake of 1950, the lake became abuzz with tourists after the Shah Rukh Khan-Madhuri Dixit starrer became a huge hit.
An Independent MLA from Lumla and former tourism minister T.G. Rinpoche, a staunch supporter of Tibetan cause and a vocal critic of the Centre's "nonchalance" to accord Dalai Lama permission to visit Arunachal Pradesh, has charged the state government with negligence in matters of preservation of Buddhist heritage sites. He rued the fact that these sites are often unofficially named by outsiders, especially army brigades based in Tawang.
"It makes no sense why the state government is allowing outsiders to name historical places, steeped in ancient religious Buddhist tradition, in a gesture that does not augur well for more than four lakh Buddhists living in the state. Take the case of Tsho-nga Tser.
"The area was known as Tser, which means grazing land. The villagers used to pay five coins to the landowner for according them traditional rights to graze their cattle. Until 1996,the lake was known as Tsho-nga Tser, but soon after Rakesh Roshan shot the film on location, the soldiers started calling the lake after Madhuri. We have made several representations to the state government headed by chief minister Dorjee Khandu, who himself is a Buddhist, but to no avail," Rinpoche said.
Rinpoche, who is also the chairman of the Mon Autonomous Council Demand Committee and president of the Buddhist Culture Protection and Preservation Committee, refuted the claim that referring to the waterbody as Madhuri lake has increased tourist inflow.
"There is no truth in this and it is just an excuse to retain the lake's name after Madhuri. It is certainly disrespecting the Buddhist ethos. The state government, instead of developing the area, is banking on Madhuri's name for tourist inflow. It is unbelievable."