India's Sikkim looking to attract Buddhist tourists from Southeast Asia
By Damanjeet Kohli, Channel NewsAsia, October 28, 2009
India's Sikkim looking to attract Buddhist tourists from Southeast Asia
Sikkim, INDIA -- India's northeastern state of Sikkim is looking to attract tourists from Thailand and it is trying to do so by promoting its many Buddhist sites.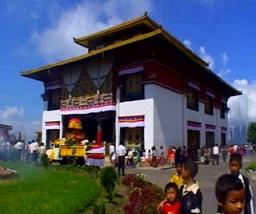 << India's northeastern state of Sikkim.
Sikkim, a tiny Himalayan state, is wedged between China, Nepal and Bhutan. It is hoping to capitalise on its location to attract visitors on a Buddhist circuit tour, especially tourists from Southeast Asia.
Despite the global economic slowdown, the flow of tourists to Sikkim has increased in 2009, compared to last year.
Tour operators said they are now shifting their focus from European countries to Southeast Asian nations, particularly Thailand, which have a large Buddhist population.
Lukendra Rasaily, general secretary of the Travel Agents Association of Sikkim, said: "Thai people are all Buddhists. Here, we have a large number of Buddhists. So this kind of exchange is going to really develop some kind of brotherhood between Thai people and Sikkimese people."
The influence of Tibetan Buddhism is very strong in Sikkim, judging from its pagodas, gompas and monasteries.
Nearly 50,000 Thai tourists visit India annually. More are likely to travel to Sikkim if they know what the state has to offer.
Parinthorn Apinyanunt, first secretary, Royal Thai Embassy, said: "At present, not so many people know about Sikkim, mostly because it's one of the remotest states in India. But I am sure that once the infrastructure is in place, more people will travel from Thailand to Sikkim."
Sikkim's tax-free status and potential for growth have attracted many Thai companies to invest in the state. Bilateral trade is expected to almost double to US$10 billion by next year.